Earlier this week Louisiana Attorney General Buddy Caldwell (pictured right) announced that the Bayou State would enlist outside counsel for the sole purpose of helping to defend that state's ban on same-sex marriage, according to The Times Picayune.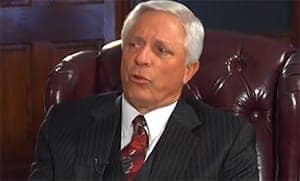 Caldwell tapped former Louisiana solicitor general Kyle Duncan to take on the role. Duncan recently worked as general counsel for the Becket Fund for Religious Liberty. The announcement from Caldwell's office directly responded to comments made by U.S. Attorney General Eric Holder that state attorneys general could choose not to defend their constitutional amendments banning gay marriage, as seven attorneys general have already chosen not to do:
"The Louisiana Constitution is a sober expression of the will of the citizens of Louisiana and I intend to defend every sentence in it," Caldwell said in a statement. "To that end, I've retained Kyle Duncan, a nationally renowned expert in this area of the law, to assist this office in our defense of the Constitution of Louisiana."
Caldwell's office said Duncan will retain the title of "Special Attorney General." But details of the contract with Duncan, including payment, were not immediately available. The office is preparing information regarding the prevalence of hiring of special attorneys general in Louisiana.
The decision to hire outside counsel comes on the heels of a recently announced challenge to Louisiana's gay marriage ban and a federal judge's ruling that Texas's ban on same-sex marriage was unconstitutional. You'll recall late last year a federal judge dismissed a lawsuit intending to make marriage equality legal in Louisiana. 
Utah Attorney General Sean Reyes previously announced that his state would also hire outside counsel to fight marriage equality.