Now that the dust has settled from the demise of SB 1062, attention is turning to another bill pending in the state's legislature, The Republic reports: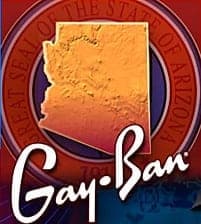 House Bill 2481, which has advanced on mostly party-line committee votes and is awaiting a debate by the full House of Representatives, would prevent government from requiring ordained clergy and judges to "solemnize a marriage that is inconsistent with the minister's sincerely held religious beliefs."
The legislation, sponsored by Rep. Steve Montenegro, R-Litchfield Park, is narrower than SB 1062, which would have offered a legal defense for individuals and businesses facing discrimination lawsuits if they could have proved they acted upon a "sincerely held religious belief."
Montenegro is an assistant pastor who says that he introduced the legislation because of cases in which churches in New Jersey and England were sued for refusing to perform gay weddings.
While troubling, it's not the religious institution aspect of the bill that's drawing the attention here but another part of it:
The Anti-Defamation League has spoken against a provision that would extend the right to refuse to conduct ceremonies to judges, justices of the peace and clerks who perform them.
Religious officials are already exempt from lawsuits filed by people who feel they were wrongly denied marriage services, said Tracey Stewart, assistant regional director for the Anti- Defamation League. But judges and other civil servants are not men of the cloth, she said.
"Those are usually individuals who are employed by government," Stewart said. Part of their public service as a government official extends to performing civil, not religious, marriage ceremonies, she said.