A bill that would outlaw discrimination on the basis of gender identity in education, housing, and public accommodations has passed the Maryland House and has gone to Governor Martin O'Malley, who is expected to sign the bill into law.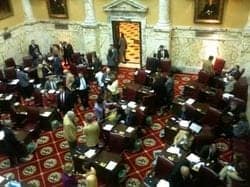 "After more than 15 years of advocacy for trans Marylanders, the tremendous work by all of our legislative champions, and the solid support of the leadership in Annapolis, history was made today. The House of Delegates sent the same loud and clear message the Maryland Senate did: Every Marylander deserves equal rights under the law. We welcome the Governor's promised signature and the full and successful implementation of this bill," said Jenna Fischetti of TransMaryland, an MCTE coalition member.
The Advocate reports that opponents of the bill often derogatorily referred to it as a "bathroom bill," playing on unfounded fears of men pretending to be transgender in order to access women's facilities. Republican delegates unsuccessfully attempted to delay the bill through procedural motions and multiple amendments that would have removed all references to public accommodations.
A campaign to repeal the law through public referendum is also expected, according to Metro Weekly.