A lawsuit has been filed in Missouri challenging the state's acceptance of joint tax returns from gay couples, the AP reports: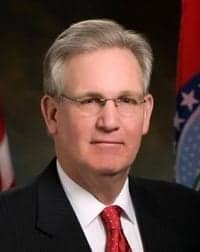 The request for a temporary restraining order was filed Wednesday in Cole County Circuit Court.
It's part of an ongoing lawsuit brought by several Missouri residents, including officials from the Missouri Baptist Convention. They're challenging a decision by Gov. Jay Nixon's (pictured) administration to accept combined tax returns from legally married same-sex couples.
Nixon is also the target of impeachment efforts by several conservative lawmakers for accepting the joint tax filings.
Nixon directed the state to accept the tax returns in an executive order last November, and at the same time made clear his personal views on same-sex marriage:
"Many Missourians, including myself, are thinking about these issues of equality in new ways and reflecting on what constitutes discrimination. For me, that process has led to the belief that we shouldn't treat folks differently because of who they are."