Zimbabwean President Robert Mugabe, who has in the past threatened to jail and behead gays, only this month learned that they exist in his own country. Now, in a talk in Zimbabwe's capital, he's keeping his hate speech alive by referring to gays and lesbians as "inhuman."
According to the Washington Blade: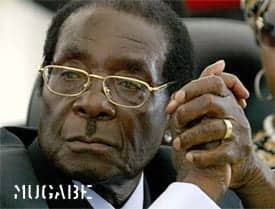 "The West says we must accept there is change in the world, that gays have human rights," he said during an event at a hotel in Harare, the country's capital, that commemorated International Women's Day as the Herald, a Zimbabwean newspaper, reported. "Gays have no human rights. They have human rights – human rights for doing an inhuman thing."
Jeffrey Smith of the Robert F. Kennedy Center for Justice and Human Rights responded to the Blade:
"These comments are consistent with Mugabe's past statements, describing gays as worse than 'pigs and dogs.' For Mugabe to declare gays and lesbians as somehow inhuman, on a day meant to celebrate equality, is horribly ironic and reprehensible."
In other Mugabe news, the leader says he will boycott next week's European Union-Africa summit in Brussels after his wife was denied a visa to attend the event.