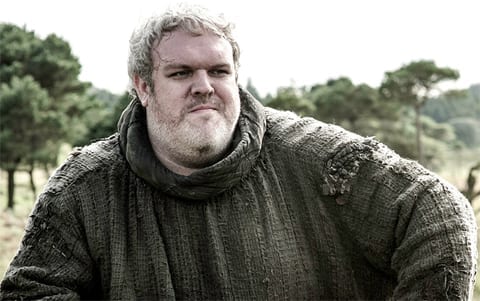 You may recall that Kristian Nairn, the actor who plays Hodor on HBO's Game of Thrones, came out publicly earlier this month. But in a recent interview with the Wall Street Journal, Nairn revealed that he had come out to his family and friends early in his adolescence, making his second more-recent coming out at age 38 a bit "weird."
"It felt a little bit unnecessary. It's just really strange," Nairn said. "It didn't feel very important to me. I just mentioned it casually in an interview."
He added:
I kind of had been waiting for it to come up in an interview question. But I sort of thought that people knew, because all you had to do—I started out doing a drag queen [act]. I DJ at a gay bar. Learn to Google, people. That's all it is…
I don't want to make light of it either because people have been in touch with me and they've been really… nice about it, and I'm really grateful. And also people said it inspired them. Because even within the gay community, there's a stereotype even when you're a gay person. You have to look a certain way. You have to be thin. You have to be tanned. You have to have small eyebrows. You have to look pretty. And that's never been me.
I just think it's important to show the world that we are varied people, as everybody else. You don't have to be any way. I think that's really important, and people said that to me. And that's when I started to realize it's not a small thing. It's kind of a big thing. And if I can help somebody—you know, I've got my family behind me. I've got my friends behind me. If you have that, that's all you need. It doesn't matter about people on the Internet. And I'm really lucky to have that. And so if I can help one person, I'm happy.
During the interview he also discussed the challenges of carrying fellow GOT actor Isaac Hempstead Wright on his back for so many scenes as Hodor. Nairn admittedly has back problems which have required the consultation of a chiropractor.