Lady Gaga was at the Oscars but you wouldn't have known.

The state of Michigan's witnesses are up next in the trial challenging the state's gay ban.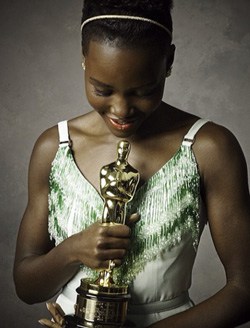 Mark Seliger hosted a photo booth at Vanity Fair's Oscar party.

Shame on the Oscar audience for not standing up for Kim Novak!

A pill that could slow aging? "US researchers found a protein called SIRT1 extended the lifespan of mice, delaying the onset of age related health problems. It also improved their general health, lowering cholesterol and even warding off diabetes."

Apple announces iOS operating system for cars called CarPlay.

A lot of people got snubbed during the Oscars' 'In Memoriam' segment.

Colored lobster rope could be safer for whales: "We know they can see the ropes. We thought by making them more visible they might be like traffic cones" by steering whales away from danger, Kraus said at the Maine Fishermen's Forum, an annual fishing industry event that draws together fishermen, regulators, researchers and other industry officials.

Elton John and David Furnish were 'fierce hosts' at their annual Oscar bash.

Chris Evans gets a new Captain America poster.

An update on marriage equality in Minnesota: "Across Minnesota, same-sex marriage is subtly but permanently altering the social fabric. The political rancor that gripped the state for more than two years before legislators took the historic step that legalized such unions last summer has given way to a new and still forming landscape. Same-sex couples are settling swiftly into married life, and others still uneasy with the momentous change are struggling to adjust to it. "

Billie Jean King met a gay Russian teenager in Sochi. "I'm worried about the LGBT community for their safety. Basically, it's OK to hate now and you can get away with it. I'm concerned, more than concerned."

Oscar Pistorius murder trial kicks off: "Media reported that the trial started with a delay of about 90 minutes. The BBC explained that an "overwhelmed" interpreter for the court in the multi-lingual country was the reason for the delay. Sky News reported that the interpreter 'arrived at court, saw the melee, burst into tears and said she couldn't do it.' The trial, attended by Steenkamp's mother June Steenkamp, started with the charges against Pistorius being read out and his team reiterating his not guilty plea. Then, first witnesses were called."

Where did The Cranberries go?

Male model fix: Henrik Fallenius.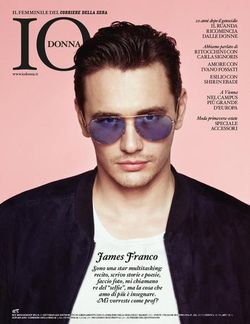 James Franco throws some purple shade on the cover of Italian mag IO Donna.
F

or homeless LGBT youth in Little Rock, Arkansas, there are few places to turn: "The state has 14,000 homeless children, according to the Campaign to End Child Homelessness, and the state ranks third worst in the nation for homeless children. While there are homeless shelters, very few places offer a space for youth who are gay."

Money offer exposed in Indiana gay marriage fight: "Jim Kittle offered "unlimited" campaign help to House Speaker Brian Bosma as part of a push to defeat the proposed amendment, according to multiple people with direct knowledge of the discussion."

Seattle man charged with homophobic attack also yells racial slurs at judge: "Filing charges late last month, King County prosecutors contend Larry Figueroa accosted the other man on Feb. 23 in the 1500 block of Boylston Avenue. According to charging papers, Figueroa shouted an anti-gay slur at the man, then told him to find his "own people" and go to a gay bathhouse. Figueroa is alleged to have punched the man in the back, prompting the other man to call 911….Jailed following his arrest, Figueroa made racial slurs toward King County District Court Judge Mark Chow during an initial court hearing, Senior Deputy Prosecutor Michael Hogan said in court papers."