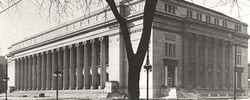 The times they are a-changin', or so it seemed yesterday when it was announced that over twenty prominent Republican lawmakers would file a friend-of-the-court brief in favor of same-sex marriage for the 10th Circuit court (right). The court will hear appeals this April from both Oklahoma and Utah, states looking to reinstate same-sex marriage bans after federal courts struck them down this winter. 
The New York Times reports:
The most prominent of the approximately 20 signers of the brief are former Senator Alan K. Simpson of Wyoming, a longtime supporter of gay rights, and former Senator Nancy L. Kassebaum of Kansas, who said last year that she had reconsidered her former opposition to same-sex marriage. The document says that "marriage is strengthened" and "the social stability of the family unit are promoted" by allowing gay and lesbian couples to marry.
The Times noted that the brief is but one document in an on-going shift in the Republican party, which has seen much more support for same-sex marriage in the past couple of years.
Last month, a New York Times/CBS News poll found a rapid shift in Republican attitudes nationwide. Forty percent of Republicans said same-sex marriage should be legal, up from 33 percent last May and only 24 percent in September 2012.
Sean Gallagher, a lawyer and Republican Party activist in Denver who helped prepare the brief, said many Republicans were rethinking their positions. "The themes of liberty and freedom resonate especially well in the West," said Mr. Gallagher, who was chief counsel in Colorado for Mitt Romney's presidential campaign in 2012.
Early last year, dozens of Republicans, including four former governors and former White House officials, joined in a similar legal brief to the Supreme Court, arguing that gay people have a constitutional right to marry. Neither Mr. Simpson nor Ms. Kassebaum signed that document.
If the 10th Circuit appeals court upholds the federal courts' decisions, we could see same-sex marriage legalized not only in Utah and Oklahoma, but also Colorado, Kansas, and Wyoming. New Mexico, which already legalized same-sex marriage in December, is also a part of the 10th Circuit.