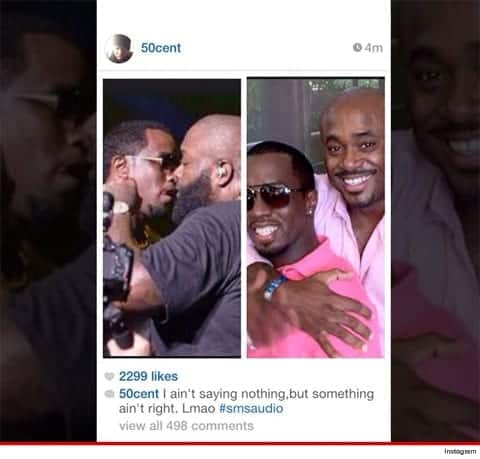 Rapper 50 Cent continued his long history of anti-gay social media trolling on Sunday with a now-deleted Instagram post suggesting Diddy was in a gay love triangle.
Hollywood Life reports:
50 Cent's Mar. 2 Instagram post, which he deleted very quickly after posting, is made up of two photos: one of Steve and Diddy hugging in pink shirts, and the other of Diddy and Rick looking like they're about to kiss thanks to the awkward angle of the photo. Fifty captioned the pic very cheekily, writing, "I ain't saying nothing, but something ain't right. Lmao #smsaudio."
The Instagram was offensive — not only to Diddy, Rick, and Steve, but also to gays everywhere — and the fact that he pulled the post seems to be an acknowledgement of that.