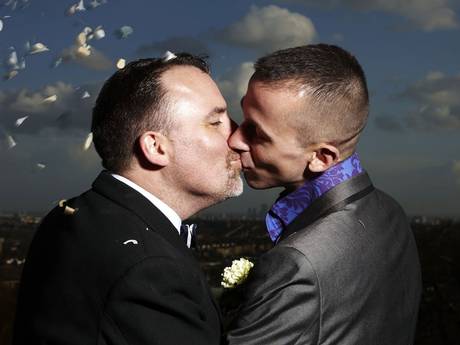 Stephen Fry is set to narrate a special for the UK's Channel 4 called, "Our Gay Wedding: The Musical." With music and lyrics written by the couple, composer Benjamin Till and actor Nathan Taylor, and group numbers to be performed by the couples' guests (and a couple of special appearances, yet to be announced), the special is looking to be a hit and to bring awareness to the issue of gay rights around the world.
The Independent reports:
"We've been together for nearly 12 years and never thought we'd get the chance to get married, for real," the couple said. "Doing what we both do for a living has meant that we've spent our entire lives expressing emotion through song, so getting married in a musical, particularly one that we're writing ourselves, felt like the most natural thing in the world."
In a nod to the struggle for gay rights, there will be tributes to other gay and lesbian couples getting married and reminders of the hardships faced by gay people in countries where homosexuality is still a crime. 
"We are proud to be marking a huge milestone for gay rights – a cause that has long been close to Channel 4's heart," said John Hay, Channel 4's commissioning editor for arts.
Fry, who is openly gay, has been an outspoken advocate for LGBT rights in Britain and globally. He was particularly vehement in his attacks on Russia and urged Britain to boycott the Sochi Olympics.
Fry likened the Sochi Games to those hold in Berlin under Nazi Germany. "I am gay. I am a Jew. My mother lost over a dozen of her family to Hitler's anti-Semitism. I for one, weep at seeing history repeat itself," he wrote in a letter to Downing Street.
Channel 4 has not yet set a date for the musical wedding extravaganza. England and Wales' same-sex marriage legislation will go into effect on March 29th, though, so expect to see Benjamin and Nathan tie the knot soon after. 
Photo via The Independent.