Photo: The Lyceum, oldest building on the campus of the University of Mississippi.
Though the Mississippi house's Judiciary B Civil Subcommittee advanced their "religious freedom" bill yesterday, an exciting bit of news out of the Magnolia State this week indicates that on a town-by-town basis, LGBT citizens are beginning to be heard and respected.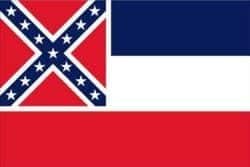 WDAM reports:
Tonight Oxford, Mississippi unanimously passed a resolution recognizing the dignity and worth of all city residents – including those who are lesbian, gay, bisexual and transgender (LGBT).  Oxford joins two other Mississippi cities – Starkville and Hattiesburg – which both passed similar resolutions earlier this year…
 "Diversity is what made and continues to make this country amazing.  It strengthens and enhances the experiences of everyone, to understand that it is our differences from which we learn and make us stronger," said Alderman Jay Hughes.  "At a time when signals from some parts of the State seem to be focused on exclusion, I am absolutely honored and proud to be in a community that embraces inclusion of everyone, to make Oxford the great place that it is.  Tolerance and acceptance creates the strongest bonds between neighbors, and I am proud to be on the right side of history in reaffirming Oxford's long-standing commitment to that most fundamental principle."
HRC President Chad Griffin applauded the city council, arguing that the decision "moved Mississippi forward on the road to equality." The general public may be more forward-thinking than state legislation would suggest, too, with 2013 poll finding "that nearly 60 percent of Mississippians under the age of 30 support marriage equality, while  64 percent of residents back workplace non-discrimination protections for LGBT employees."