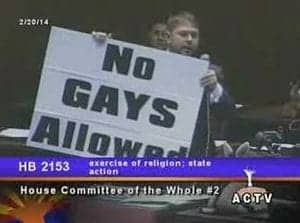 Imagine if you walked into a store holding your same-sex partner's hand and was told, politely, that you would have to leave. "This establishment declines to serve homosexuals." You're shocked, but the smiling discriminating proprietor adds, "But don't worry. There's a shop that serves you down the street."
Several things have happened here.
First, you are being singled out because of your (perceived) sexual orientation. Our society does not countenance discrimination on the basis of who we are, whether its the state doing it (the Equal Protection Clause has a few things to say on that) or private citizens who open their businesses up to the public (public accommodations laws apply here). In either case, the principle is offensive to modern notions of equality. A world that allows some businesses to discrimination on the basis of identity expresses to its citizens the value that discrimination is ok. If discriminating against a particular group is ok, then hating that group is also ok. They — read: us — become an "other", an "out-group", something unfamiliar and different and, therefore, unwholesome. "Othering" someone is bad enough; institutionally blessed discrimination allows mental othering to be manifested in physical form. For a particularly heinous example, look no further than Vladimir Putin's Russia.
Second, you are the object of stares, the center of attention, and, likely, the victim of snickers and taunts. Those who have taken to heart the cues of discrimination will single you out for harassment and hate. Even if they just stare, your sense of self is eroded by their inappropriate, rude, and condescending behavior, all of which has been condoned and invited by a pro-discrimination law.
And, third, the alternative shop may exist, but it is as if it exists to emphasize your otherness. The shop down the street is an alternative only because you were forced, by individuals taking advantage of a state law, to look for alternatives.
Libertarians and conservatives looking to sound less hateful talk a lot about choice and freedom. But their version of choice and freedom is empty and naturally favors the status quo. Of course we have the choice to go to another photographer. We also have the income to try to use market forces to punish a discriminating business owner. That way, the theory goes, the market will eradicate discrimination. But equality based on the ability to choose grants a life line to discrimination. It feeds it the unending stream of hate that will always exist on the right wing of any society and has the expressive effect of condoning more and more discrimination.
Equality is more than choice. It is treating every person with the full dignity they deserve. The Arizona law would not have done that. Mr. Will and the law's other apologists don't seem to care.
***
Follow me on Twitter: @ariezrawaldman
Ari Ezra Waldman is a professor of law and the Director of the Institute for Information Law and Policy at New York Law School and is concurrently getting his PhD at Columbia University in New York City. He is a 2002 graduate of Harvard College and a 2005 graduate of Harvard Law School. Ari writes weekly posts on law and various LGBT issues.