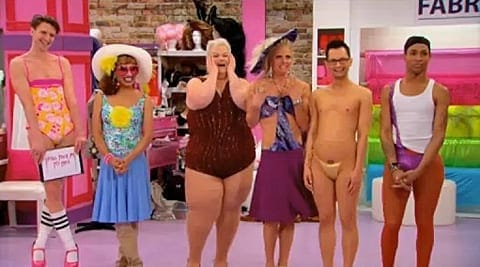 Before the main challenge, the two groups of contestants meet for the first time, and there's enough tension to cut with a Texas chainsaw. For the mini-challenge, Ru instructs the girls to pair up with a girl they haven't met yet for bikini beach lip synch with a twist: The two queens will perform as one. For each pair, there's a "top" who straddles her partner and works her upper body, while the bottom moves her legs. It looks ridiculous (especially the BenDeLaCreme and Darienne Lake pairing), but it's a lot of fun.
Milk and Adore Delano are declared winners and team captains for the main challenge. The girls will be split into two teams, with one creating a short 1960s horror film and the other utilizing a 1980s setting. The captains' team choice aligns precisely with whichever queens they competed with in their first challenge. So, Milk's 1960s team includes Bianca, Courtney, Darienne, Joslyn and Trinity, while Adore's is composed of Laganja, Vivacious, April, Ben and Gia.
Things for Adore's team do not go well. Let's break down where things went right (and wrong) for all the girls.
This Week's Power Rankings: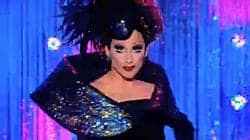 1. Once again, Bianca Del Rio is the total top. Her performance in Scream Queens was easily the most convincing (if not as flashy as Darienne's), and her runway look perfectly captured her old-school Hollywood glamour aesthetic. It's not quite as kitschy as BenDeLaCreme, but there's enough of a vision there to make everything feel fully realized. Plus, I love the way she does her eye makeup. Seriously, can we just skip the whole season and give Bianca her own show?
2. Speaking of BenDeLaCreme, she continues to be a strong contender. Despite coming in with the most developed character, she was able to slip effortlessly into the necessary role for the challenge. Then, when it was time to be DeLa again, her runway look was adorable and every skip in her step fit the character perfectly.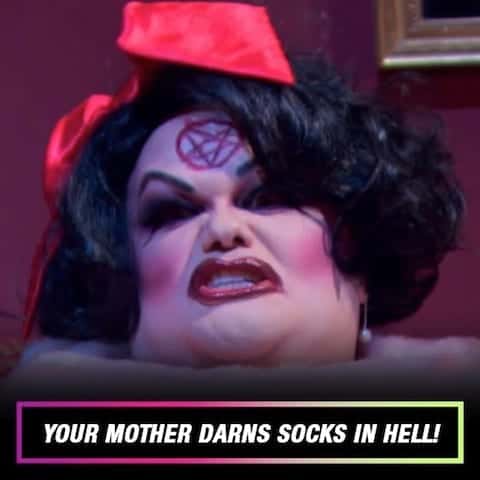 3. As the judges said, if Ben was on the winning team, she would have claimed the top spot. Instead, Darienne Lake took the honor. She was great as the head in the box, but I thought her best look was a little disappointing. I love me a cape, too, but I thought she just looked like a foil-wrapped baked potato. Compared to the creative queens she's up against, it'll take more than hair, sparkles and lashes. To borrow a reality competition judge cliché, I'm still not sure who Darienne is yet.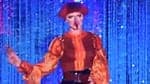 4. I haven't soured to Milk (and I've only just begun to mine the dairy jokes this season, just you wait), but I wasn't nearly as enamored with her this episode. The Pinocchio-inspired runway look was fantastic, but her main challenge performance was just OK. I did like her commitment to the mini-challenge, which she won, as she bounced Adore Delano around vigorously.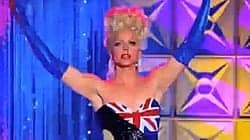 5. Courtney Act is still pretty. So very, very pretty. OK, fine, her performance was good, too. But, come on, she's just so pretty. I know that won't carry her forever, but, for now, that's enough for me.
6. I can't shake the feeling that Joslyn is a lot smarter than she looks. Her performance in the test shoot — reading her "gasp" cue aloud — was nicely played. The runway outfit just left me wanting. Give me glamour, give me avant-garde, give me body-ody-ody. I just wish she'd have pushed it further in any direction.
7. What was Laganja doing during this challenge? What was that accent? The little time we did spend with Ms. Estranja was, as Bianca so accurately described, "irritating." This is totally subjective, but something about that girl just gets on my last nerve. Still, her runway look, which the judges called "young Maggie Smith," was a showstopper. In the challenges, Estranja is great, she's just got to take all that "personality" down a few notches.
8. Adore has the opposite problem. She's hilarious in interviews and has such a quick wit. (Not Bianca quick, but she's no Gia, either.) Her performance this week was just a disaster. Not knowing your lines is one thing; not knowing your character's name is another. As team captain, she blew it. She put no thought into casting and didn't lead her team through enough rehearsal. I just don't think she's got the polish to compete with her more seasoned competitors. She reminds me of early Shangela in that way. She just needs more time.
9. Unlike Joslyn, I get the feeling Gia Gunn is exactly as smart as she looks. Once the girls get a challenge that asks them to either improv or write their own material at all, Gia is toast. I'm not even sure I'd trust her to operate a pencil.
10. I actually don't think April Carrión's performance was nearly as bad as Trinity's. If Trinity wasn't saved by her team's win, I definitely would have placed her in the bottom two instead. Once it was down to April and Vivacious, I was already prepping for April to get on the next flight back to Puerto Rico. But, she shocked me with a seriously committed lip synch to Selena Gomez's "Shake It Up" that was impossible to turn away from. It had great energy.
11. Look, we all want to be Beyoncé, but Trinity is only this much closer than you and I. Again, Bianca said it best: "Trinity looks more like Sammy Davis, Jr. in a Beyoncé wig." I get this was her first time acting, but she couldn't even approximate the act of acting. Like, face the camera, gurl. Surely you don't need to study the Abramović Method to get that.
12. Oof. Vivacious. That performance made Trinity look like Meryl Streep. It's clear that Vivacious is very, very good at what she does, but that is just one aspect of becoming America's next drag superstar. The whole tribal council (her teammates, RuPaul and I) agrees. Get off the island.
How would you rank the queens?