Reports have surfaced that two men have been arrested under Uganda's new anti-gay law signed into law last month. The men were detained at a hotel in the town of Jinja earlier this week.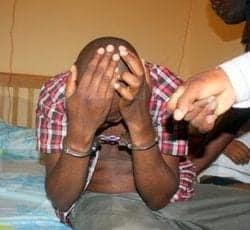 According to Trending Newsroom, a hotel employee reported them to police:
Two men were nabbed in a Kampala hotel after a lodging attendant caught them having sex and subsequently informed the police. According to reports, sexual moans were heard about 20 minutes after the men had checked into the room they had booked in the hotel. Shortly after being informed, the police arrived at the scene, handcuffed the two men and took them away.
Suspected gay citizens have also apparently been ousted from their homes. The New Civil Rights Movement reports on at least two instances where landlords have issued eviction notices to tenants. One letter reads:
I am writing to inform you that you have been evicted from the house you live in because of the stories [about your gay lifestyle] that appeared on Bukedde Television and in the print media. We can no longer live with someone like you. Therefore, vacate the premises before the 5th of May 2014
Meanwhile, gay rights activists and politicians have challenged the revolting law in the country's courts:
The group called Civil Society Coalition on Human Rights and Constitutional Law are calling on the court to rule that the new law violates Uganda's constitution, because it encourages discrimination based on sexual orientation.

Nicholas Opiyo, a Ugandan lawyer who helped to draft the petition, said the group are asking judges to issue an interim order which stops police officer from implementing the laws.