Former middleweight boxing champion Kassim Ouma has reportedly been charged with felony battery for assault a man who made unwanted sexual advances on him in Los Angeles.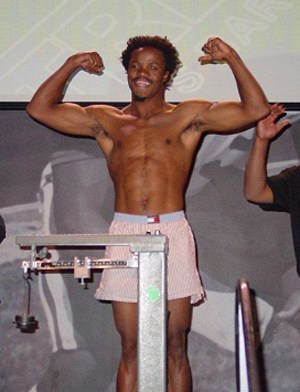 TMZ reports:
The former IBF junior middleweight champion is telling investigators … he was hanging out in Hollywood early Friday morning when he struck up a conversation with a guy he just met. Ouma says the two went back to the other man's home for a drink … where the guy allegedly made a pass at the boxer.
We're told … Ouma claims he politely declined multiple advances … but says when he got up to leave, the guy made one final move — and Ouma shoved him away. The altercation then escalated … with Ouma allegedly knocking the guy out cold. Cops were called to the scene — where the victim was treated and transported to a nearby hospital.
The blog Rod 2.0 adds:
Ouma has a very compelling personal story and is the subject of the 2008 documentary Kassim the Dream. He was kidnapped at 6-years-old and forced to become a child soldier for the rebel army under the leadership of Yoweri Museveni—who later become Uganda's president and has remained in that position 1986. Ouma was drafted into the army as a teenager, became a boxer in the army's amateur team and applied for political asylum in the United States when he was 18-years-old. Ouma later became the International Boxing Champion Junior Middleweight world champion.
Ouma remains behind bars for the time being.