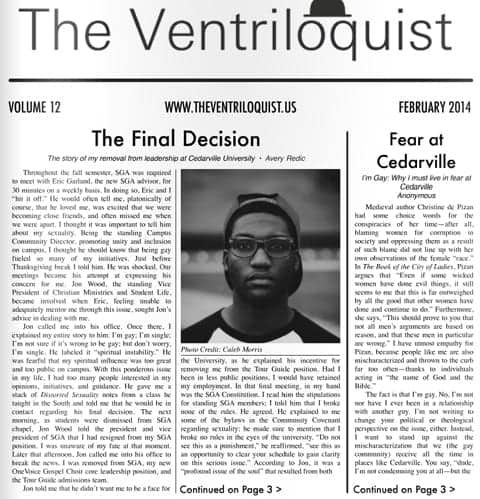 Cedarville University in Ohio has undergone substantial administrative changes within the past year, including a new President for Student Life and Christian Ministries as well as no longer allowing male students to be taught Bible classes by female professors.
The newest development is the abolishment of the latest edition of the student newspaper The Ventriloquist after it ran some pro-LGBT articles, one from a student writing about being dismissed from a variety of student leadership positions and another from an anonymous student asking why he must live in fear at the school.
The newspapers were confiscated before they could be passed out, and the university's Executive Director of Public Relations, Mark Weinstein offered up the excuse, "Our school has policies for soliciting and [students] need permission to distribute. It was checked and [The Ventriloquist] did not have permission." The Ventriloquist has been distributed since 2010 without any problems and no changes regarding student publications have been made to the student handbook since that time.
You can read a digital copy of The Ventriloquist with the LGBT articles below
UPDATE: Cedarville University's LGBT Alliance Cedarville OUT released a statement condemning the crackdown:
CEDARVILLE, OH, April 29, 2014 – The new administration at Cedarville University, a Baptist-affiliated school in southwestern Ohio, has placed new restrictions on free speech activities on campus by forcibly confiscating copies of the independently-produced student paper, The Ventriloquist. Much of the crackdown by university administrators revolves around the paper's discussions of LGBT issues and the reality of LGBT students' lives on Cedarville's campus. The acts of aggression continue to mount, leaving many students fearing for their safety.
Over the past year, several students have felt forced into leaving Cedarville because of their sexual orientation. Others have felt silenced as the university censures those who offer even a modicum of support to LGBT students. Most recently, copies of The Ventriloquist were torn from the hands of students attempting to distribute it around campus by none other than the University President.
Avery Redic told his powerful story of his time at Cedarville in an issue of The Ventriloquist before he felt forced to transfer. Another anonymous student wrote, in reference to Redic: "I'm in danger. When the university administration chooses to strip a gay student of all his leadership and ministry positions (and he ends up at Wright State) because he's not sure what he believes on the issue, that's a problem. It means that for the rest of my time at Cedarville, my status is on the line. I have to live in fear of my own 'Christian' community and what they might do to me."
"The reality of LGBT students at Cedarville cannot be ignored," says Grant Miller, Cedarville OUT member and former student body president. "It is a travesty that staff at Cedarville are allowing these unchecked aggressions to take place, creating a climate of fear."
If, as Mark D. Weinstein, Cedarville's Executive Director of Public Relations, asserts, Cedarville University, "supports free thinking and discussions on topics," Cedarville OUT demands that the papers be returned and that LGBT students be offered a safe space to talk about their lives. Cedarville OUT maintains a presence online where current students, alumni and supporters can read stories and share experiences as LGBT individuals and allies authentically living life against the backdrop of religious confusion, misunderstanding, and aggression—but also with the hope and the exhilarating freedom that comes with authenticity.