As the battle to get an Employment Non-Discrimination Act (ENDA) signed into law wages on, Politico reports that Colorado representative Mike Coffman has signed on to become the seventh GOP co-sponsor of the legislation in the House of Representatives: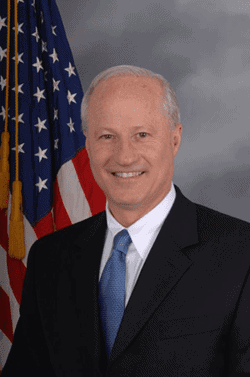 That Coffman is one of the first Republicans coming out in support of ENDA is no surprise, and it highlights another step in his political evolution. The Colorado Republican has reversed positions on immigration and abortion in recent months as he tries to fend off an challenge from Democrat Andrew Romanoff in Colorado's competitive sixth district.
"I see this legislation as the workplace equivalent of the Golden Rule — do unto others, as you would have them do unto you," Coffman said in a statement to POLITICO. "In the workplace, in 2014, we should judge employees the way we would want to be judged — based on our qualifications, our contributions and by our character, period."
ENDA cleared the Senate last year and now must be passed by the House of Representatives before being sent to the President for his signature or veto.
Coffman joins fellow Republican Representatives Michael Grimm (N.Y.), Ileana Ros-Lehtinen (Fla.), Richard Hanna (N.Y.), Charles Dent (Pa.), Jon Runyan (N.J.) and Chris Gibson (N.Y.) in sponsoring the bill. Eight house Democrats are currently not co-sponsoring the legislation: they are Reps. Dan Lipinksi (Ill.), Jim Costa (Calif.), John Barrow (Ga.), Mike McIntyre (N.C.), Pete Gallego (Texas), Henry Cuellar (Texas), Gene Green (Texas) and Nick Rahall (W.Va.). The bill still needs support from 16 more representatives to receive the required majority to pass in the House. However, even if the bill gained the necessary traction  among rank and file representatives, it would still need to be granted a vote on the House floor by Speaker of the House John Boehner, something Boehner has said he would not do in 2014. For that reason, many prominent political players, including the HRC and DNC Treasurer Andy Tobias, have expressed frustration at the White House's refusal to consider an ENDA executive order.