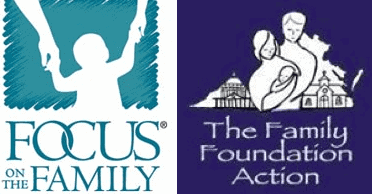 Focus on the Family and the Family Foundation of Virginia are planning a 40 day prayer, fast, and repentance later this year, hoping that divine intervention might help sway the outcome of Bostic v. Rainey.
The Ted Olson and David Boies-backed challenge to Virginia's ban on same-sex marriage is currently awaiting a ruiling in the Fourth Circuit Court of Appeals and will likely head to the Supreme Court afterwards. 
CitizenLink reports:
The Family Foundation is asking that you join us for 40 Days of Prayer, Fasting and Repentance for Marriage from August 27 until October 5, 2014. Our state and nation are mired in a morass of confusion and post-modern thinking that does not believe in absolutes nor that any truth can even be known. Nowhere is this more evident than in the current debate raging about what constitutes marriage. Pagan philosophies, a secular humanist education establishment and an entertainment industry that is absolutely determined in pushing the envelope on decency and morality have all combined to turn this great land into a country that our forefathers could not even begin to recognize. […]
The Supreme Court begins its session on October 6. We fully expect it to take a marriage case sometime in the next year. In the natural, it looks like a David vs. Goliath battle. The federal government, the news media, Hollywood, the public education system and big business all are arrayed on the side of same-sex "marriage." Only the church stands in support of God's design for marriage. Our 40 Days will culminate on October 5 just before the court begins its session. 
All this talk of fasting is making me hungry. Who wants some pizza?