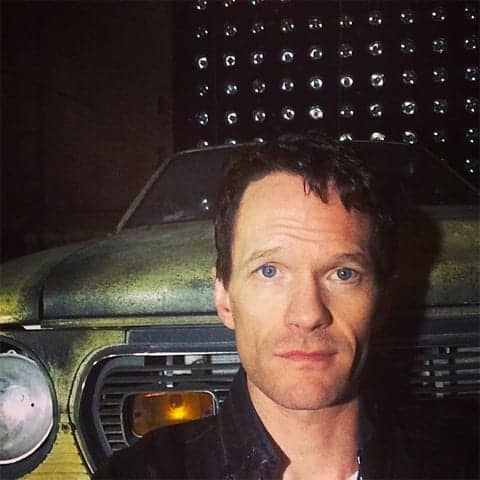 NPH on Instagram: "Calm before the glitter storm. Sitting alone on a quiet stage before the @hedwigonbway opening tonight. What a ride it's been…"
Neil Patrick Harris turns in an incredibly funny, emotional, physical performance in an updated Hedwig and the Angry Inch at the Belasco Theatre. I was lucky enough to see the opening last night and suggest you get your tickets now.
The Hollywood Reporter notes in its review that Harris is "beyond fabulous, holds nothing back and plays it any way but safe." I'd have to agree.
Writes Ben Brantley in a NYT rave:
Mr. Harris has much more than marquee and recognition value. He also has a master entertainer's gift for making the rough go down smoothly. And what might be distasteful from other mouths — including raunchy double entendres that deserve (and receive) rimshots — sounds delicious coming from his. From the moment his Hedwig makes her David Bowie-esque entrance, we're his to do what he will.
That includes a certain amount of manhandling, if I may use so sexist a verb. In song and guttural speech, Hedwig is an aggressive narrator. (Note to front-row audience members: Don't wear anything expensive.)
Brantley is right, I can say from experience. At a certain point in the show I was shocked as Hedwig climbed down from the stage, mounted the arms of my chair, straddled my face, and pulled my head in for a prolonged and passionate 'angry inch' faux-job to the squeals and delight of the audience. And of course I loved every minute of it.