A driver for the car hire company Uber was fired in Paris over the weekend after he reportedly told two passengers they were not allowed in his car because they were gay.
The Local reports: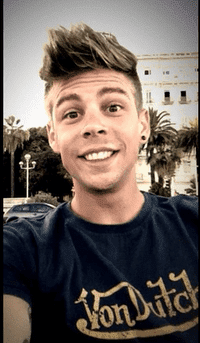 When the driver showed up, he asked the men [one of whom is pictured right] a few questions, and after determining they had come from a gay club he refused to give them a ride. The driver allegedly said 'I don't take gays' and drove off, French daily Le Parisien reported.
Still needing to get home, the young men again requested a car from Uber. Incredibly, the same driver turned up again, prompting them to snap a picture of his license plate.
The driver didn't like being photographed one bit and allegedly shouted at one of the men, "Come here, I'm going to break your phone." Fearing for their safety, the two men headed back toward the club.
Their move prompted the driver to shout: "Come on, get in gays, I'll take you home" before he drove off. At that point the men took to Twitter to denounce the incident and inform Uber of what had happened. 
"Non je prends pas les pédales" @Uber_Paris merci à votre chauffeur plaque "CS759DM" 5h57 qui nous a refusé la course car pas à son goût.

— Julien Léo Pasktier (@leopask) April 27, 2014
(No, I don't take gays. @Uber_Paris thank you to your driver plate number CSM759DM3 5:57am who refused our trip because it wasn't up to his taste)
Uber replied Sunday morning by announcing the suspension of the driver, saying "this unacceptable behavior is absolutely not representative of the spirit of Uber." The driver was later fired.
[photo via Twitter]