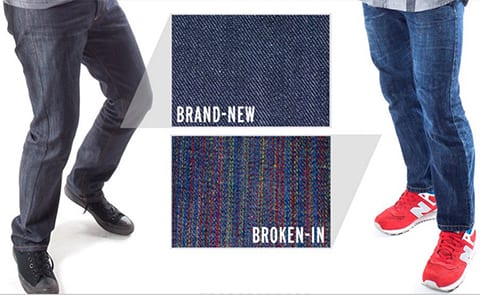 The fashion innovators at Betabrand clothing are crowd-funding the creation of "Gay Jeans," denim jeans that "come out of the closet" the more you wear them:
"Gay Jeans begin life looking and acting like regular 5-pocket denim jeans, but as they experience normal washing and wearing over the course of their life, their indigo dye gradually fades away, revealing fabulously colorful yarns just waiting to come out."
While their ad copy includes ham-fisted joking about "denim equality," the jeans' creator Steven B. Wheeler explains his personal connection to the design:
"Early in life, I was not wildly unlike any of the other boys on the playground, but as time went by, I noticed things about me that set me apart from others. The same too for Gay Jeans; it takes time for them to uncover the things that make them unique.
"… the name (Gay Jeans) is a pun on the issue of science finding the "gay gene," and the debate over whether or not being gay is a choice. For these jeans it isn't a choice. Like me, they were born this way, and like me, they'll come out in their own time.
"And finally, I love this project because no matter what else they are, Gay Jeans are no more or less a pair of jeans than I am more or less a human being. I'm a gay man, yes, but a man nonetheless."
The jeans cost $78.40 and 10 percent of all proceeds will go to the San Francisco LGBT Center.