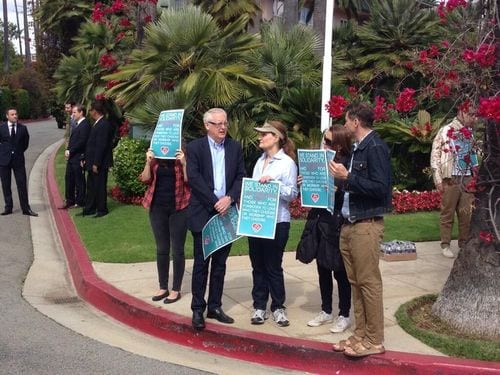 (twitter adam schorn)
A group of about 15 people gathered outside the Beverly Hills Hotel in Los Angeles on Saturday to protest the hotel's owner, the Sultan of Brunei, who recently announced he would be instituting a death-by-stoning penalty for gay people in his small southeast Asian country.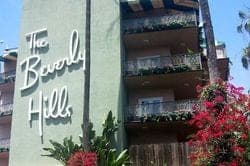 "Hollywood spends a lot of money at the Beverly Hills Hotel and I don't want it to end up in the hands of that person," explained actress Beth Grant (The Mindy Project). "We just want in a loving and compassionate way to put an end to it," she said, meaning homophobia in Brunei supported by big spenders at Beverly Hills Hotel. The protesters held up a banner touting the website dumpbhh.org, which contains a petition and a headline noting, "If the hotel was in Brunei, gays couldn't stay, because it's illegal to be gay in Brunei."
Cameron Silver, owner of a Hollywood vintage couture store, organized the event along with Jennifer Howell, who works for fashion-supported charity Art of Elysium. "We're here in a peaceful way to energize taking more responsibility," said actress/musician Rain Phoenix, 41, who directs Art of Elysium's music program Elysium Sessions. "Once people know where our money goes, that the things people buy affect people far away, courageous love can not only quell but transform the hate. If we greet hate with hate, we only create more hate." Phoenix said the protest was reminiscent of her first public appearances as a three-year-old singing as a religious evangelist with her brother River Phoenix on streetcorners in Venezuela. "Through the internet, we can tranform how people feel."
In a similar protest earlier this month, a private high-dollar LGBT donor conference was moved away from the Beverly Hills Hotel.