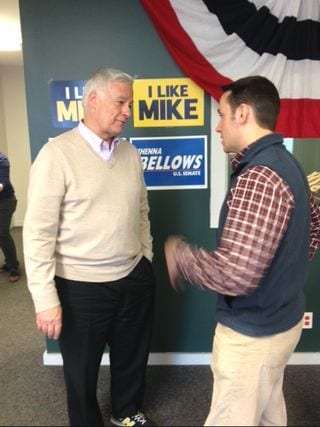 (Congressman Michaud and his campaign manager)
BY DAVID MIXNER
The path to equal rights for LGBT Americans has been filled with historic political milestones.
The elections of Massachusetts State Representative Elaine Noble and San Francisco Supervisor Harvey Milk to public office made history in the 1970's. Houston's Annise Parker and Seattle's Ed Murray made history by being elected mayor of their cities. The coming out of Congressman Barney Frank broke the glass ceiling in Congress. Congresswoman Tammy Baldwin became the first openly LGBT Senator in history in the last election.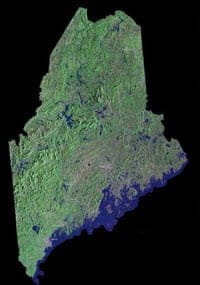 Now looming on the horizon in November is the possibility that the first openly gay governor could be elected in Maine. Democratic Congressman Mike Michaud is currently narrowly leading in the polls. The Democratic candidate 'came out' to the people of Maine at the beginning of the campaign.
LGBT history is waiting to be made one more time and the Tea Party is gearing up to stop it.
Maine's gubernatorial race has three candidates. The incumbent Tea Party Republican Governor Paul LePage, third party candidate Eliot Cutler, and Democratic Congressman Michaud. If Cutller wasn't in the race, Michaud would most likely win in a landslide.
In an interview for this column, Michaud's campaign manager Matthew McTighe said:
"Even though there are three candidates, it's clearly shaping up to be a close two-way race between Mike Michaud and our current Tea Party governor, Paul LePage. All of the polls have the two of them within a few points of one another, with Mike ahead in most and the third-party candidate trailing way behind. But we feel very confident in our path to victory no matter how many candidates stay in the race."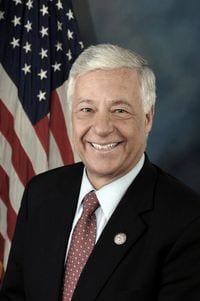 When asked about the impact of the Congressman's coming out on his chances in November, McTighe responded:
"Honestly, it hasn't made much of a difference, at least not in the polls or in the growing momentum we've seen building for Mike's candidacy. I think that's a testament to the fact that Mainers have really come a long way on LGBT issues, which I know firsthand, having run the marriage equality campaign here in 2012. In 2009, voters in Maine rejected marriage, but just three years later we won convincingly. Moreover, people know Mike. They trust him, they like him, and they know his coming out won't change who he is."
While there has been no serious 'gay-baiting' of Michaud yet, it is expected that radical right-wing groups will create some nasty last minute ads and mailings in an attempt to derail his election. Interestingly many believe such attempts in Maine might backfired and assist the Congressman instead of hurting him.
The Washington Post column The Fix says that Maine voters are the second most likely to defeat an incumbent Governor. As a result, Republicans are gearing up around the country to pour money into the state. McTighe hopes that LGBT Americans and progressives will respond to this chance to make history.
"Well I wish it wasn't the case, but as you know money is critically important in high-profile races like this. The Republican Governors Association is going to spend millions to reelect Paul LePage, and they're already attacking Mike. We need the resources to defend against their attacks, and that will require a lot of help from people all over the country."
As a debate rages in the LGBT community who should get credit for making history, here is an opportunity to look not backward but forward. Help Congressman Michaud and his team out HERE if you so wish. Without question this is one of the community's most important races in 2014.