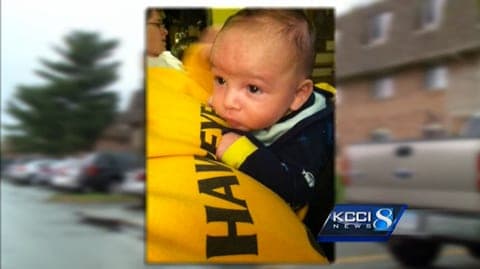 An Ankeny, Iowa lesbian couple are heartbroken after the death of the 4-month-old child that they had hoped to adopt.
After taking him home from the hospital, Heidi McFarland and her partner Rachel were forced to return 4-month Gabriel to his birth mother a few days before signing the final adoption papers. Gabriel's 16-year-old biological mother left the child with his 17-year-old father Drew James Wheeler-Smith at 7:30 PM to go and run some errands.
When she returned at 8:20 PM, the father was gone and the baby was dead, still sitting in his glider chair with white foam around his mouth.
The father has been arrested and will be charged after the child's autopsy is complete. The McFarland family released a statement that read:
"It took about 30 seconds to fall in love with him. Heidi and Rachel were the perfect parents and any love, happiness and security that Gabe had in his short life was given by them. They would have treasured him forever."