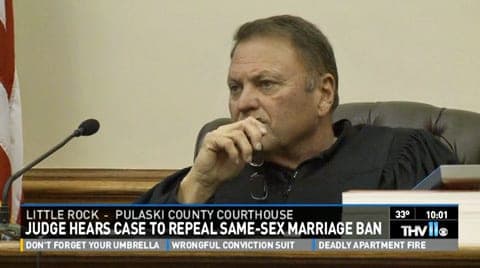 Following hearings yesterday, Circuit Judge Chris Piazza said he would rule within two weeks on a challenge to Arkansas' ban on gay marriage, the Arkansas News Bureau reports:
Twenty-one same-sex Arkansas couples — and one woman seeking a divorce from a woman she married in New York — allege in a lawsuit that Amendment 83 to the Arkansas Constitution, which was approved by voters in 2004 and defines marriage as between one man and one woman, violates rights guaranteed under both the state and federal constitutions.
The state attorney general's office maintains that banning same-sex marriage preserves state interests and does not violate any fundamental rights.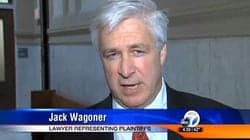 Jack Wagoner, one of the plaintiffs' attorneys, said during Thursday's hearing that since the U.S. Supreme Court struck down a federal definition of marriage as between one man and one woman in the U.S. v. Windsor case last year, 18 federal and state court decisions have been issued addressing the issue of equality based on sexual orientation, and all have been decided in favor of equality.
"I love coming to court when the facts are all on my side," Wagoner said.
Assistant Attorney Colin Jorgensen argued that in the Windsor ruling, the Supreme Court addressed federal law only and did not block states from defining marriage as they wish.
More on the hearing here.
Said Piazza following the three-hour arguments: "I've already got an idea where I'm going, but I'm still drifting."