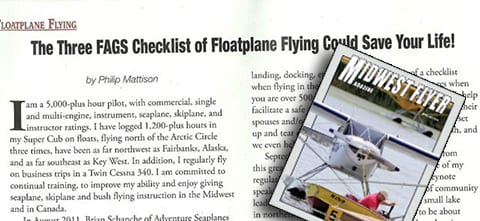 The National Gay Pilots Association (NGPA) has reached out to Midwest Flyers Magazine after the magazine published a safety article by Philip Mattison entitled "The Three FAGS Checklist of Floatplane Flying Could Save Your Life!"
FAGS in this case was an acronym for "Flaps, Airspeed, Gears and Seatbelts." And the magazine's editor Dave Weiman defended its use as such:
"We apologize if the acronym Mr. Mattison uses for his personal pre-landing checklist offended you in any way, but he created it as a tool so he would remember it. It was not used as a slang term to mean something else, nor in a derogatory sense…
"He is dead serious about the importance of using checklists, and his article was a public confession that he made a mistake that cost him his aircraft and nearly his life… We hope that the positive and constructive use of the acronym distracts from any negative connotation that may be associated with a similar slang term. The true definition of the word according to the dictionary supports the premise that even though checklists may be tedious, they are necessary."
Nevertheless, Steven Moore, Executive Director of the NGPA responded, "There is no difference in using this word than if you were to use any other derogatory remark to reference any other minority, and it is quite disturbing."
Gays and Lesbians Allied Against Defamation's Programs and Communications Fellow, Alexandra Bolles, added her thoughts on Mr. Weiman's defense of the acronym:
"Attempting to reassign the word does not erase the harm it has caused and the power it holds for people who are LGBT. Dave's attempt to discredit and invalidate LGBT readers' responses to the article is reminiscent of the argument [that saying 'fags' is okay because it's also a word for cigarettes or a bundle of sticks]."
The headline of the online article now reads "Flying On Floats or Wheels…. Checklists Could Save Your Life!" It does not include any mention of "FAGS."