Tony Award nominations, coming Tuesday, are up for grabs.

Magic Johnson interested in buying L.A. Clippers after Donald Sterling controversy.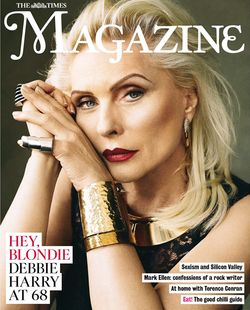 Deborah Harry covers the London Sunday Times.

Paul Simon and wife Edie Brickell arrested after domestic violence incident.

Chelsea Handler may go to Netflix: "Handler has a deal with Netflix, but the format is to be decided," said one source close to the talks.

'Progressive' Pope Francis makes not so progressive statement ahead of canonization ceremony.

New York may become first state to prohibit condoms from being used as evidence in prostitution cases: "There may be no actual evidence, and the condom is their only way to trying to prove it," said Hawk Kinkaid, a former male escort who now advocates on their behalf in New York City. "The fear that this will be used against you — it prevents people from being able to protect themselves."

Joe Manganiello is sporting some sexy scruff.

Male model fix: Mark Ricketson.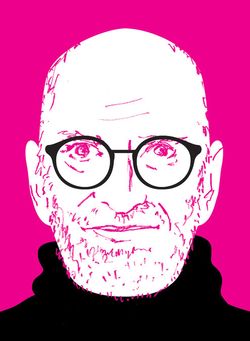 Frank Bruni snarks at Jo Becker book as he salutes Larry Kramer. "Right now there's an impassioned conversation about proper credit for the huge successes of the marriage-equality movement. It stems from the publication of a book by my Times colleague Jo Becker, 'Forcing the Spring,' which focuses narrowly on a few key figures from the fight to overturn a 2008 California referendum prohibiting same-sex marriage. In giving them such primacy, 'Forcing the Spring' has raised hackles, and it suggests a new corollary to an old adage. Perhaps history isn't simply written by the victors. Perhaps it's written by the publicity-conscious participants with the foresight to glue journalists to their sides."

Boy Scouts lose funding from Louisville because the organization's anti-gay policy violates the city's anti-discrimination ordinance.

Lily Allen does Beyoncé's "Drunk in Love" at G-A-Y in London.

George Clooney is getting married.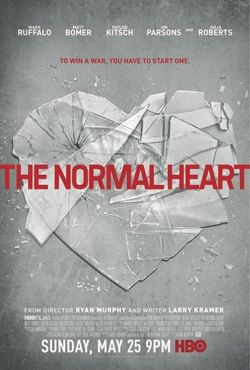 Here's the official poster for HBO's The Normal Heart.

North Bergen Police Department and Jersey City Police Department hit with lawsuits from trans people claiming they were discriminated against and harassed because of their gender identities: "Transgender people are especially vulnerable to violence, forms of emotional and financial blackmail, and humiliation, often at the hands of those to whom the public extends the greatest trust … and greatest responsibility," said attorney Kevin Costello, who filed both lawsuits.

60-pound cauliflower breaks world record.

Boaters off California coast watch killer whales drown and eat baby gray whale.

The life-saving science behind sunscreen.

Bill Maher on Cher: "Stop saying 67 year-old year old Cher shouldn't dress like this anymore. What's she's supposed to do, go out on tour wearing a pantsuit from Ann Taylor? You've got to admire anyone that can still fit into their old 70s rhinestone butt thong, whether it's Cher or Richard Simmons. I say she still looks hot – even if that pastie doubles as an estrogen patch."