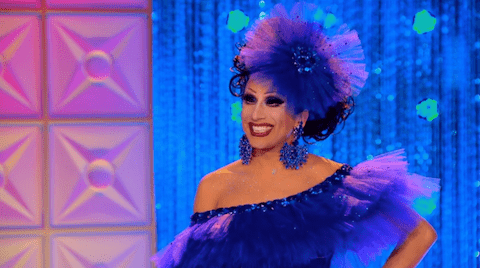 In the workroom, the remaining five queens dragged out a puppet of one of their competitors for a little therapeutic role play. BenDeLaCreme, rightfully, was the winner leading into the main challenge: The Glitter Ball. The ladies had to create three looks, one for each of tonight's three categories (banjee realness, platinum executive realness and dripping in jewels eleganza). Guest judges Bob Mackie and Khloe Kardashian (ugh, again?) joined the panel to select the (wrong) final four.
Here are this week's power rankings:
1. Well, I guess now this is Bianca Del Rio's race to lose. Tonight, she could've come out a bit stronger. In the mini-challenge, her dragged out Adore puppet was just a recitation of catchphrases. (Though, to be fair, sometimes Adore really just is a recitation of catchphrases.) In the main challenge, her executive realness was flawless, but her banjee look was almost too polished. Her final sapphire gown wasn't a stunner, but it wasn't a mess either. Even a middling Bianca is still in a whole other league. Next week's dance-driven challenge could be a major hurdle, but, so help me, if Bianca doesn't make it at least to the final three I'm going to have to start a MoveOn.org petition.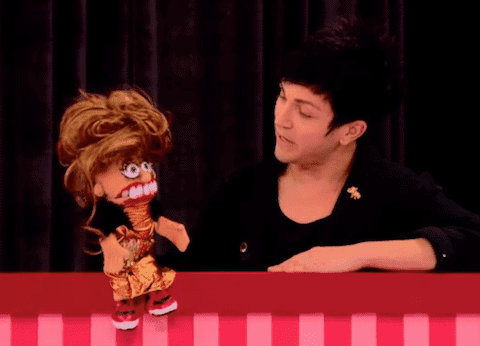 2. I don't care what the judges say, BenDeLaCreme was robbed. Robbed, I say! She should have been safe based on that mini-challenge alone. It was genius to use those press-on nails for puppet Bianca's pearly whites. (And I nearly died when her Puppet Del Rio shouted, "I live in New York! I work all the time!") On the main stage, I liked her take on banjee — ruffles and all — but I agree with the judges on her executive realness. (It was a little too much Disney villainess.) Her bejeweled eleganza definitely felt predictably DeLa, but I thought it had enough extra sparkle to feel ball-worthy. I'd still sooner pay to see a show from Ben before I ponied up for Courtney or Darienne.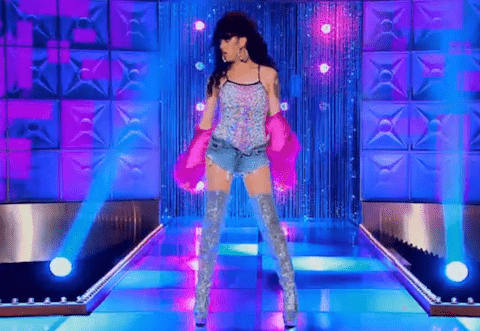 3. Hopefully tonight cements Adore's redemption arc right into the top three. I thought her BenDeLaCreme puppet performance was amazing, one of the best. She nailed the voice, and had a few zingers in there about costumey fashions and eyebrows covered in "oatmeals." Though the judges rightfully praised the banjee ensemble, above, how did they not read that executive look? She was wearing pants and a button down shirt! If that's drag, then I'm one wig and a pair heels away from the top four pretty much every day Monday through Friday. I believe the category was "platinum executive realness" not "entry-level realness." I'm happy to see her still here, just not at the expense of Ben. Good on her for winning a sewing challenge, though.
4. Safe. That's the perfect word for Courtney this week and for pretty much all the weeks before that. The two challenges she's won (the Ru-sical and the talk show) failed to truly impress. Her puppet performance bombed, while her runway looks lacked any sizzle. Maybe she can become a viral video star a la Willam, but she is no next drag superstar.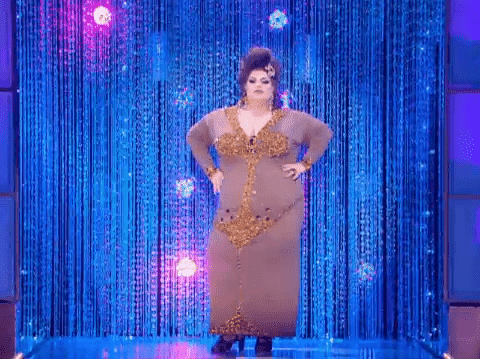 5. Darienne, gurl, what were you thinking with all those runway looks? Each one was completely awful. First, the banjee realness looked like something from Deee-Lite's "Groove Is In the Heart" left in the sun. Her platinum executive looked like she'd be more comfortable in a mall as assistant managing of a Torrid. And then that bedazzled skin suit? Good grief. It pains me to admit that I think she edged out Ben on the lip sync, but only barely. It shouldn't have been Ben in the bottom two in the first place, NOT LIKE I'M BITTER OR ANYTHING.
How would you rank the queens? Were you shocked by BenDeLaCreme's elimination?