Tonight's first episode challenged the girls to pair up and make a commercial shilling for RuPaul's makeup line. Of course, everyone was paired in the most dramatic way possible (Ben and Darienne, Laganja and Adore, Joslyn and Courtney, Bianca and Trinity). Joined by guests Leah Remini (King of Queens) and Lainie Kazan (My Big Fat Greek Wedding), the judges sent Ben and Darienne to the bottom two. After only an OK lip sync, Ru decided to keep both girls.
The second episode had the ladies writing stand-up comedy routines and then performing for a group of senior citizens (for some reason). Guest judges Jamie Pressly (My Name Is Earl) and comedy writer Bruce Vilanch joined the panel for one of the most wildly uneven challenges in recent memory.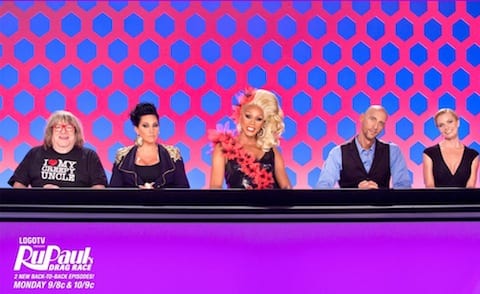 Here are this weeks rankings: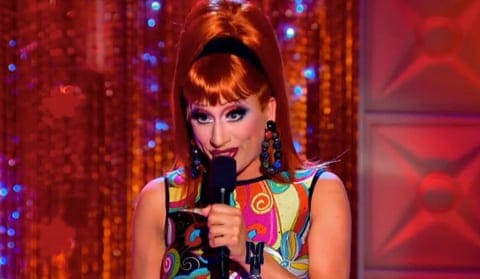 1. Bianca Del Rio's march toward victory continues. Her performances in the main challenges were top-notch, but, beyond that, her relationships backstage make her all the more endearing. First, she was taking Adore under her wing, and now she's adopted Trinity. You get the sense that she can spot talent, and she genuinely wants to encourage them. The looks were also still flawless (particularly the black and white ball gown). I was ready for Bianca to slay the stand-up comedy challenge, but she slayed it, resurrected it, put a wig on it and slayed it again.
2. Meanwhile, Adore Delano was a letdown. If you're familiar with her YouTube videos, you know she's funny. Her stand-up just fell flat. The performance in the commercial was a bit better, but she was clearly weighed down by Laganja. At least her fashions are getting stronger. The black and white runway look was one of her best. Her lack of polish might keep her from the crown, but her winning personality will likely take her to the finals.
3. My, how the mighty have fallen. It was a rough two episodes for BenDeLaCreme, who found herself twice in the bottom. Whereas when queens in prior seasons have been accused of not showing their personality, it was because they didn't actually have any, DeLa is so sweet and charming in his interviews. Her character is well-defined, but I think she can figure out how to bring her authentic self to the stage. That said, the makeup ad missed the mark, and the stand-up was abysmal. Just awful. The former was a concept problem; the latter was execution. I'm willing to call these both flukes for now, but if this keeps up, DeLa will be dropping a few spots next time. I think Ru agrees, which is why she saved Ben and Darienne.
4. Though DeLa disappointed, Trinity was a pleasant surprise. After floundering for weeks, Trinity really shined in both the makeup commercial and the stand-up routine. I did not see that coming. Had she succeeded in just one, I'd have thought it was just dumb luck. It really feels like she's burst through a block. The make-up ad with Bianca was fun enough, but that stand-up was brilliant.
5. Darienne could be so much better. She's funny, she can beat a mug and she's got a polished look. However, I just find her sort of unlikable. One of the things that makes Bianca so lovable is that she's consistently direct. Darienne is always kind of passive aggressive, and it comes off as insecurity at best and, at worst, cowardice. She makes all these snide remarks, but when DeLa asked her straight about what her deal was, she was sheepish in her response. It's not cute.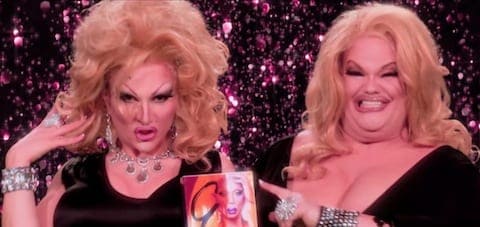 6. I'm tired of watching Courtney Act sleepwalk through this competition. She's given us medium performances with medium effort. (I didn't even think she was that great in the musical challenge.) Now that we're through the halfway point, she's got to amp it up.
7. Thank you, Joslyn, for giving us one of the best lipsyncs of the season. The clothes, however, have been a mess. I think she's better than Courtney gives her credit for, but not in the same league as some of the leading queens. Sorry.
8. Oof, good riddance, Laganja, mama. You were terrible when you were having emotional breakdowns backstage, and you were terrible when you were clucking around the workroom, OKRRR? You were just the worst. (Roxxxy Andrews was terrible, too, but differently terrible. I'd much rather be trapped on a long car ride with Roxxxy than Laganja.)
How would you rank the remaining queens?