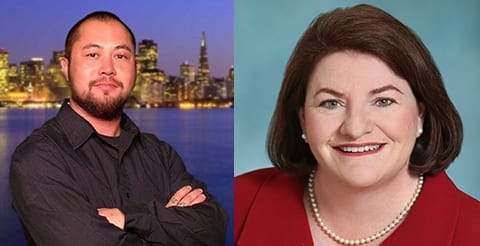 The suicide and posthumous misgendering of transgender filmmaker and activist Christopher Lee (pictured left) has compelled California Assemblywoman Toni Atkins (pictured right) to introduce a state bill that would reflect a transgender person's chosen gender identity on their death certificate.
Lee — who was the first female-to-male Grand Marshal of San Francisco's 2002 Pride Parade and founded the San Francisco Transgender Film Festival — committed suicide on December 22, 2012. But when his death certificate arrived, it had his female birth name on it and listed his gender as female, even though Lee's driver's license said male.
This happened in part because Lee did not undergo gender reassignment surgery (it's cost-prohibitive, not always covered by insurance and not always worthwhile to some trans people), and because of antiquated state laws.
The California Report explains:
Lieutenant Riddic Bowers of the Alameda County Coroner's Bureau. He says a driver's license is not enough to override anatomy. An updated birth certificate would work, but that requires a court order. And until 2012 getting a court order meant getting surgery.
"Barring that, we have to rely on the documentation that exists, someone's existing birth certificate and their correlating anatomical description," Bowers says.
Family opinion is also a factor, and, under current law, next-of-kin has the final word. This is controversial. Many transgender people are estranged from relatives who are uncomfortable with their gender transition.
Lee wasn't in close contact with his family…
Atkins bill would change two key things. First, it would require coroners and funeral directors to record a person's gender identify rather than anatomical sex. Second, if there's a dispute, a driver's license or passport would be sufficient legal documentation to trump family opinion.
If such documents are unavailable, the deceased's next of kin will decide the gender. 
Atkins' bill — known as Assembly Bill 1577 or the Respect After Death Act — was filed on January 30, 2014 and is sponsored by Transgender Law Center and Equality California.