Michael Kirby is the openly gay chairperson of the United Nations agency that just published a report which found harsh human rights violations in North Korea. Just two short months after the announcement of the investigation's findings, the country has issued a personal attack on Kirby.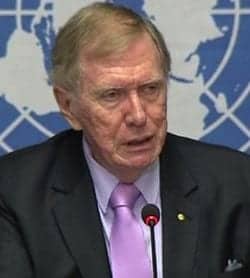 The criticism comes in the form of an outrageous homophobic editorial published by state-run Korea Central News Agency (KCNA) which not only blasts Kirby, but homosexuality in general.
According to The Washington Post, it reads in part:
As for Kirby who took the lead in cooking the "report", he is a disgusting old lecher with a 40-odd-year-long career of homosexuality. He is now over seventy, but he is still anxious to get married to his homosexual partner. This practice can never be found in the DPRK boasting of the sound mentality and good morals, and homosexuality has become a target of public criticism even in Western countries, too. In fact, it is ridiculous for such gay to sponsor dealing with others' human rights issue.
KCNA went on to describe Kirby and the other authors of the UN report as "dirty swindlers." Read the full North Korean editorial here.
The Washington Post notes the significance of North Korean state media's reference to homosexuality:
…the use of homophobic insults seems exceptional, even for North Korea: A quick search of KCNA appears to show that this is the first time the agency has used the word "homosexual" since the agency went online. Officially,  homosexuality doesn't exist in North Korea, and there appear to be no laws on the books banning it.  In the rare moments it is acknowledged, it is viewed negatively. In an article for NK News published last year, Oliver Hotham wrote that many North Koreans have little knowledge of homosexuality, and it is often viewed as a foreign concept.
Read the full UN report here.