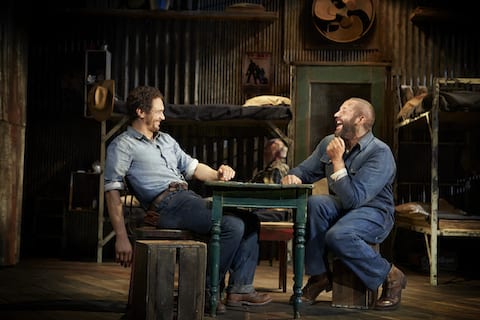 BY NAVEEN KUMAR
James Franco's quest for ubiquity now includes a starring role on Broadway, in the revival of John Steinbeck's classic 1937 drama Of Mice and Men, which opened April 16 at the Longacre Theatre. Anyone hoping for a spectacular crash and burn may have to settle for a gentle sputter, as the pseudo art-star fades against the glare of stage lights and the formidable talents of co-star Chris O'Dowd.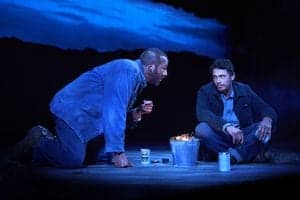 From the first moments of director Anna D. Shapiro's imposingly designed production, the familiar story of two men versus the world is writ large. George (Franco) and his companion Lennie (O'Dowd) are migrant ranch hands in Great Depression California, working to survive equally harsh economic and natural hardship. Lennie is preternaturally strong but has the slow mentality of a child, and the dependency of one, too. The two are en route to a new job, having just fled their last on account of some seemingly innocent misbehavior involving Lennie and a woman in a pretty dress.
The pair encounters a host of characters at the new ranch, including old-timer Candy (a venerable Jim Norton), who soon joins in their dream of owning a plot of land; Curley (Alex Morf) the owner's hot-headed son, who instantly spells trouble; and his flirty, restless wife (Leighton Meester), who likewise leaves behind the scent of trouble every time she leaves a room.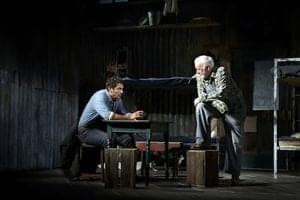 Steinbeck's story is full of visible landmines, and Shapiro's production navigates them with a certain finesse, thanks in large part to a sensitive and engrossing performance by Mr. O'Dowd. Known best for his starring role in Bridesmaids, the Irish actor does an exceptional job crafting Lennie's myopic world and inviting viewers inside with every gesture and look of wonder.
As is no surprise by now, Franco also inhabits his own unique world, which doesn't quite do him the same credit on stage as it may off. George and Lennie have a shared dream—that one of them has control of his wits only makes him more determined to escape their bum fates. But Franco's George often registers as little more than resentful. With a few notable exceptions, his harshness toward Lennie feels flat rather than mixed with the brotherly love on which the story hinges.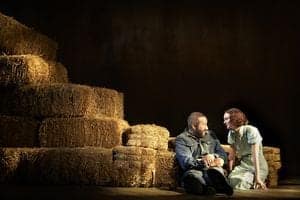 Lacking a credible bond between the two marquee leads, the production struggles to take off, despite some fine performances from its supporting cast. Norton brings his usual level of ease and expertise to Candy, as does Ron Cephas Jones in the role of the isolated black workman Crooks. Ms. Meester (late of Gossip Girl), cuts a pretty figure and is admirably poised in her major theatre debut, but falters when called on for emotional depth.
Despite ending with a bang, stakes remain low in the escalation to this production's climax. If Steinbeck's play relies on our investment in the American dreams of his characters—for George to be a landowner, for Lennie to be a tender of bunny rabbits, for Candy and Crooks to live out their final years with dignity, for Curley's wife to be a Hollywood star—believing in some, but not all, makes for a soft landing.  
Recent theatre features…
Harvey Fierstein On Straight Men In Stockings And His New Broadway Play 'Casa Valentina': INTERVIEW
Woody Allen's 'Bullets Over Broadway' Musical Starring Zach Braff Opens On Broadway: REVIEW
Denzel Washington Opens in 'A Raisin in the Sun' On Broadway: REVIEW
Idina Menzel Opens In 'If/Then' On Broadway: REVIEW
Terrence McNally's 'Mothers and Sons' Starring Tyne Daly Opens On Broadway: REVIEW
Follow Naveen Kumar on Twitter: @Mr_NaveenKumar (photos:richard phibbs)