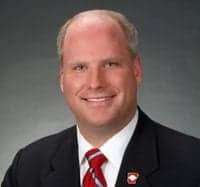 The AP is reporting that Arkansas Attorney General Dustin McDaniel has asked Pulaski County Circuit Judge Chris Piazza to suspend his ruling yesterday striking down the state's same-sex marriage ban while it's appealed to the state Supreme Court.
Last week, McDaniel announced that he supports gay marriage but would continue defending the state's ban in court. 
And with no word yet on whether the stay will be granted, there are incoming reports that the clerk's office in the small town of Eureka Springs will be open to issuing same-sex marriage license from 9am-1pm CT today.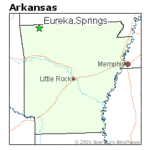 Eureka Springs, which bills itself as the "Gay Capital of the Ozarks," lies 182 miles northwest of Little Rock on the Missouri border and isn't far from the Oklahoma border.
You can get married in Arkansas without being a resident of the state and there is no waiting period. 
UPDATE:
The Arkansas Times is reporting that same-sex couples who lined up this morning in the Eureka Springs courthouse have been told by the deputy county clerk that she would not be issuing licenses to straight or same-sex couples today because her boss, the county clerk, was out of town.