Arkansas Attorney General dustin McDaniel told attendees at the Associated Press Managing Editors convention that he supports marriage equality but he plans to defend the state's ban in court, the AP reports: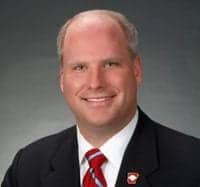 McDaniel, a Democrat serving his final year as the state's top attorney, became the first statewide official in Arkansas to back same-sex marriage….
…McDaniel had voiced support for civil unions when he ran for attorney general in 2006, but said then he believed marriage was between a man and a woman. McDaniel ran briefly for governor but dropped out early last year.
McDaniel said he was not calling on any other statewide officials or candidates to support gay marriage, and said he would not campaign for ending the ban while serving as attorney general.
McDaniel told the reporters:
"I want to tell you I do support marriage equality and I do believe Arkansans should have the right to be equal in the eyes of the law…I'm going to zealously defend our constitution, but at the same time I think it's important to let people [know] where I stand on the matter."