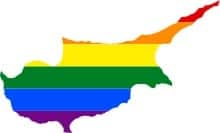 As Cyprus heads toward its first ever gay pride parade later this month, the House Legal Affairs Committee has introduced an intriguing and exciting bill to parliament. The bill would criminalize homophobic behavior with a severe punishment: a 5,000 euro fine and up to three years in prison. 
ILGA Europe reports:
AKEL MP Aristos Damianou told the press that it was about time to introduce a bill regarding homophobic behaviour, since racist and xenophobic behaviour are already criminalised. Asked what constitutes "homophobic behaviour", he said that the bill defines it as one "that encourages hate against individuals or groups that have a sexual preference." Damianou added that "in this day and age we are required to do so by our international commitments."
…
Asked by the Cyprus Mail why "homophobic behaviour" has such a vague definition, the MP said that vagueness was in fact the goal of the legislators. "The definition is purposefully vague so as to give courts the flexibility to judge such cases based on the evidence before them."
Opposing party AKEL would prefer slight more definition; they've asked the committee to revise the bill in order to allow individuals to file suit within its parameters.
The Cyprus LGBT community is also awaiting the passage of a civil union bill which has been in the works for some months.