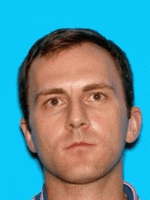 Daniel Simmons, 34, a deputy attorney general for the state of Delaware, has been accused of sexually assaulting a 16-year-old boy, New Castle County Police Officer Tracey Duffey said.
The News Journal reports that the investigation began in March after police learned of the incident involving the teen, who Simmons met through the social media app Grindr.
Simmons was charged with four counts of fourth-degree rape. He has been placed on administrative leave and police are asking anyone with information about him or other victims to contact New Castle County Police Department.
The paper adds:
As state Attorney General, Beau Biden in 2007 established the state Child Predator Unit within the Attorney General's Office with investigators who concentrated on proactively identifying child predators over the internet, while aggressively investigating and prosecuting traditional crimes against children.
Biden has issued no comments on the charges.