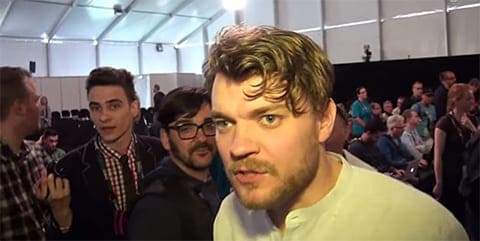 One of the hosts from Eurovision 2014, actor and director Pilou Asbaek, has revealed that Eurovision organizers banned him from wearing rainbow colors during the broadcast because it would be "too political." The Independent reports that Asbaek wanted to wear the rainbow colors in protest of anti-gay laws in Europe:
"I asked them if I can wear rainbows. No. We're not allowed to be political. It's about music, not politics."
He went onto say: "But music and politics, you cannot divide them. Not in my mind." 
Though Asbaek was not allowed to visually demonstrate his support for LGBT rights at this year's Eurovision, there was ample evidence of support for LGBT equality among the crowd at the competition in Copenhagen:
Members of the audience in the B&W Halls in Copenhagen, Denmark were seen waving rainbow flags during the evening. Meanwhile the Icelandic entry Pollapoenk sang a song called 'No Prejudice', which called for equality for all.
This year's Eurovision contest notably saw the victory of drag performer Conchita Wurst of Austria. Wurst has sadly been criticized for her gender identity, being called "it" by Russian politician Vladimir Zhirinovsky and a "pervert" by Vitaly Milonov, the author of Russia's anti-gay propaganda law. However, despite the criticism from prominent Russian figures, Wurst's track, "Rise Like a Phoenix," has risen to the top of the iTunes charts in Russia following her win. 
In case you missed it, you can watch Wurst's winning performance HERE.