A federal judge in Evansville, Indiana will hear two marriage cases tomorrow, the Sun-Times reports: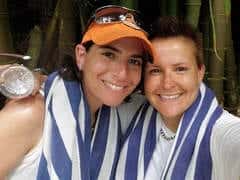 U.S. District Court Judge Richard L. Young will hear oral arguments in the latest chapter in Baskin vs Bogan, a federal lawsuit filed by Lambda Legal in March in U.S. District Court for the Southern District of Indiana on behalf of five Indiana couples, three of whom live in Northwest Indiana.
According to a Lambda Legal spokesman, Young is considering a motion for summary judgment seeking to have Indiana's ban on gay marriages overturned.
"This will be for all same-sex couples in Indiana, not just our plaintiffs," the spokesman said.
Local couples named as plaintiffs in the lawsuit are Niki Quasney, 37, and Amy Sandler, 37, of Munster (pictured); Lyn Judkins, 57, and Bonnie Everly, 56, of Chesterton; and Dawn Carver, 41, and Pam Eanes, 50, of Munster.
…The other hearing will be for a preliminary injunction to extend the recognition of the marriage of Quasney and Sandler through the duration of the court proceedings.
Stay tuned…