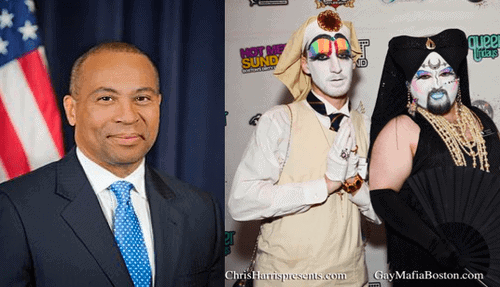 Boston Pride has announced that Massachusetts Governor Deval Patrick, along with drag activist troup Sisters of Perpetual Indulgence, will serve as Grand Marshals for the upcoming 2014 Pride Parade.
The Rainbow Times reports:
"We are excited to announce Governor Deval Patrick as a Grand Marshal this year as it will be his last year in the Governor's office.  We are honored to have him as Grand Marshal to celebrate his accomplishments and thank him for his unwavering support of the LGBT community," said Boston Pride President Sylvain Bruni. "Also, the Sisters of Perpetual Indulgence have had a significant impact as a charitable organization in the LGBT community with their activism for LGBT and human rights. With their work, both Marshals have embodied the Pride's mission of inclusion and diversity, and we are grateful to have them as part of our celebration."
Boston Pride Week 2014 will be held from June 6th through June 15th. This year's theme is "Be Yourself, Change the World."
More information and details can be found at www.bostonpride.org.