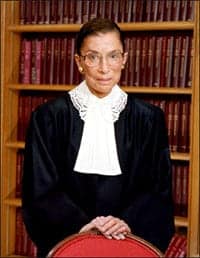 Supreme Court Justice Ruth Bader Ginsburg is a badass. I know because last March, I had the privilege of witnessing the oral arguments in United States v. Windsor and will forever remember her quip that with DOMA in place, the U.S. effectively had two kinds of marriage in place: "there's full marriage and then there's sort of skim milk marriage"
In a recent interview with the Wall Street Journal, Ginsburg was asked to give her thoughts on the public's reaction to that landmark case and the cultural shift towards greater public support for marriage equality. 
Said Ginsburg:
The reaction to Windsor I think has been positive from the public. She was such a well-chosen plaintiff. People could understand the injustice of the way she was treated. I haven't seen a social change that rapid in – ever. It's just great that people who for years have been disguising what they were are now free to be what they are. 
When asked why the court ruled narrowly in the case and didn't address the bigger question of whether state laws could deny marriage to same-sex couples, Ginsburg responded:
You saw the way the court disposed of the California case. The court generally moves in small steps rather than in one giant step. I think Thurgood Marshall's litigation is a good example of that. For years he was not arguing that 'separate but equal' had to go [but rather attacking segregation incrementally]. Then, then when he had all the building blocks in place, he could bring the Brown litigation.
Ginsburg also said the numerous court cases working their way through the system that have used the Windsor ruling to strike down restrictions on gay marriage are an "inevitable next step on the part of people who [are] trying to promote a greater understanding."
You can check out her full interview HERE, in which she goes on to give her thoughts on President Obama, congressional gridlock, the Affordable Care Act, and officiating gay marriages.