This week, former Michigan State Representative Lorence Wenke disaffiliated from the Republican Party over its "out-of-control spending" and "discrimination" against gays and lesbians. In November, he will run for state senate as a Libertarian: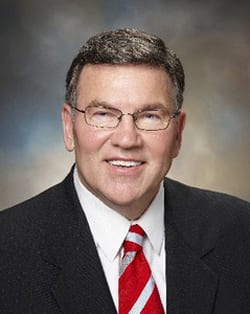 "In a statement dated April 25, the long-time Southwest Michigan Republican cited the party's "discrimination" against gay citizens and what he characterized as "taxpayer abuse," which he said has created "an elite class" of government employees, as the reasons behind his decision.
"I support the constitutional right of our gay family members to enjoy the same rights as our heterosexual family members," Wenke wrote, citing his record as one of just two Republican legislators to vote against the Marriage Protection Amendment to the Michigan Constitution in 2004.
"I was the only legislator to call it what it is — discrimination against our gay brothers and sisters," he wrote. "At that time, three local Republican legislators with gay brothers never said a word in support of gay rights. I challenge them with this question: 'If you will not stand up for your own family members, who will you stand up for?' "…
Wenke called out Gov. Rick Snyder and Lt. Gov.Brian Calley for refusing to take a position for or against gay rights. "I can only assume it is because they fear the political consequences," he wrote.
Despite his personally difficult decision, Wenke said that he hopes to maintain the relationships he made as a Republican.
As a gubernatorial candidate four years ago Governor Snyder opposed marriage equality. When asked for his opinion now after a federal decision declared Michigan's marriage ban unconstitutional, Snyder gave no comment, adding that social issues are a distraction.