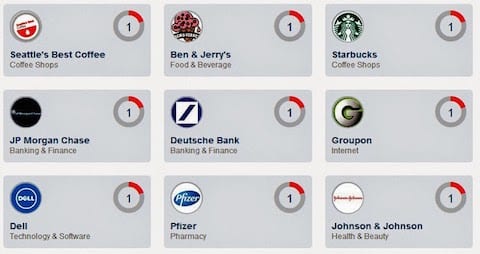 The ever-helpful Tony Perkins reminded his followers that the Family Research Council has an app called 2nd Vote that rates companies from 1-5 based on their adherence to traditional conservative values. Companies lose points for supporting gay rights, any liberal policies, and donations to Planned Parenthood, naturally.
Confusingly, companies also lose points for having environmental protection policies in place (Psalm 24:1 - The earth is the Lord's and the fullness thereof the world and those who dwell therein; Revelations 11:18 - The nations raged, but your wrath came, and the time […] for destroying the destroyers of the earth.) and for banning guns in their establishments (Psalm 11:5 - The Lord tests the righteous, but his soul hates the wicked and the one who loves violence; Exodus 20:13 - Thou shalt not kill.), so perhaps 2nd Vote's conservative policies aren't just a thin veneer applied over oppressive religous dogma.
The app is presently enjoying stellar ratings on Apple's App Store with enthusiastic reviews from satisfied customers:
"Thank you for helping me to identify which business are willing to stand up against bigotry, misogyny, discrimination and just general ignorance. I am thrilled that this APP has made it so easy to find what businesses to avoid AND pointed out that those that cling to backwards conservative ideals are fewer and further between!" 

"As a bigot, it's very important for me to know where I should spend my money. I like supporting companies that discriminate against minorities, and hold hypocritical views based on the Bible. I am glad to know my dollars aren't going to some gay fascist socialists."
[Image via Joe.My.God.]