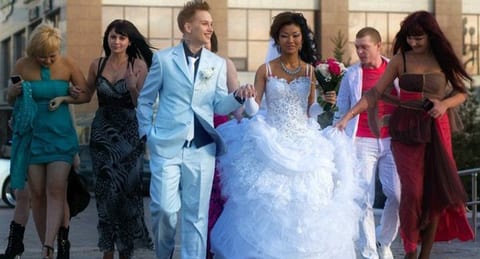 The recent murder of a married lesbian woman has incited local anti-gay activists in Kazakhstan to protest same-sex marriage by building a brick wall in front of a gay nightclub in the country's largest city, Almaty.
According to Radio Free Europe, the protest came 10 days after the murder of Kristina Chernysheva (pictured left), a woman who made headlines last year for her symbolic marriage to her partner, Karolina (pictured right) — "it was the first-known, public same-sex 'wedding' in Kazakhstan."
Chernysheva was reportedly dismembered and burned; three women including Karolina have been detained by police in relation to the murder.
The owners of the club reportedly did not call police over the erection of the brick wall, nor have they taken any other responsive action. No word on whether they left the wall standing.