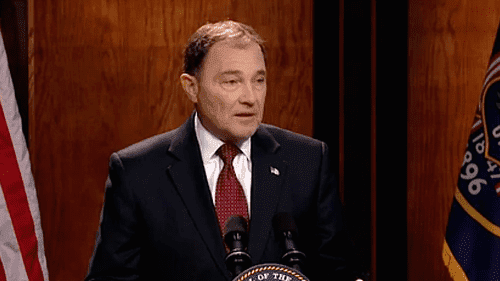 Utah Governor Gary Herbert is under fire for controversial comments made Thursday at a news conference in which he called other states' decision not to defend their same-sex marriage bans the "next step toward anarchy"
"To suggest that allowing gay marriage is the foundation of anarchy, to us, is hate speech," said John Netto, who heads the Utah Pride Center board. "We think he is uneducated … on current scientific positions in regard to human sexuality."
Herbert was also criticized for implying that homosexuality is a choice at the news conference.
Asked about the oft-used comparison between banning same-sex marriage and once-illegal interracial marriage, Herbert said: "What you choose to do with your sexual orientation is different than what you're born with as your race."
Herbert later backed off, saying there may be "different gradations" in sexuality.
Herbert's office did not respond Friday evening to calls for comment.