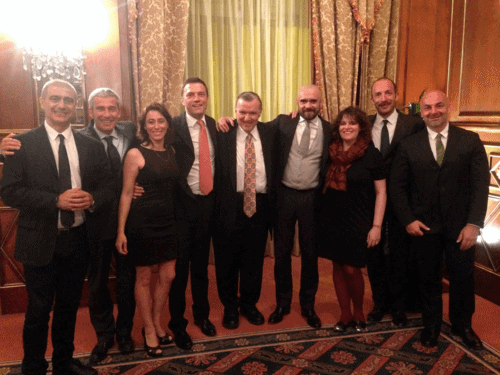 BY DAVID MIXNER
Last week I had the opportunity to meet with a large number of Italian LGBT leaders and influencers. In many ways, their struggle for LGBT rights is in its infancy stages and lags behind most of the Western European powers. However a network of rights organizations make these pioneers a force whose power grows daily in Italy and puts them far ahead of Eastern Europeans.
Adoption rights, hate crimes legislation and marriage equality still all have to be obtained in Italy. At the moment, a hate crimes bill is working through the legislature (it has passed the Chamber of Deputies and is currently in the Italian Senate) but it seems to have quite a few detractors — some who believe it is not tough enough and some who will simply oppose anything having to do with the LGBT community.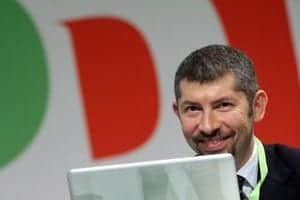 Franco Grillini in 2001 became the first open LGBT member in the Parliament. He was joined by the first Lesbian Anna Paola Concia who was elected in 2008. Today one of the most powerful members in the Chamber of Deputies is openly gay Ivan Scalfarotto (right). The handsome and articulate advocate is Vice Chair of the governing Democratic Party. When meeting with him, one is immediately impressed with his passion, intellect and political agility. Scalfarotto started out as a member of the Green Party in 1988 and shifted to the Democrats in 2008. The passionate activist has pushed for a Hate Crimes bill and is exploring creating national civil unions for Italy.
Over breakfast, Ivan said he was interested in creating an Italian version of the Victory Fund. He believes it is time to move dramatically forward in electing more LGBT Italians to office. There is no question that his charismatic and promising leadership will help make that a reality.
Another bright light is youthful Matteo Pegoraro (right) who hails from Solesino. He is active at both the grassroots and political levels and expressed  impatience with Italy's slow progress.  When asked about then new young Prime Minister of Italy, Matteo told me:
I admit I'm still pretty doubtful. So far, Prime Minister Matteo Renzi has given priority to constitutional reforms to reduce public spending and groped to boost employment, but no word yet from the Italian government on the protection of LGBT people. However, hope is the last to die, and I really hope that this Prime Minister can listen to the voices of our community and strive to make a better Italy through raising awareness and social welfare, which starts from the total recognition of fundamental rights.
In addition, the lesbian community has a star in Luisa Bordiga who is coordinator of Arcilesbica Milan.
The country's largest LGBT organization is Arcigay and it covers the broad spectrum of grassroots politics. EDGE is a new professionals organization. Famiglie Arcobaleno and Rete Genitori Rainbow are two family-oriented organizations that would make PFLAG proud.
Without question one of the organizations that could wield considerable influence in Italy is PARKS. The organization is named after American civil rights icon Rosa Parks and its members are the diversity officers of major corporations in Italy. Corporate giants such as IKEA, Johnson & Johnson, Telecom, Citi and IBM are members of the group which has embraced LGBT rights as part of its agenda. You can find its Executive Director Igor Suran all over Italy spreading the gospel of diversity. Lining up these major corporations and others could be the major catalyst for change that is needed in Italy.
Like the rest of the Western powers the victory for Italian LGBT rights feels inevitable. Some of the leaders think marriage equality is ten to twenty years down the road. Interestingly, most of the young organizers think it will only be five years. What is clear is that this Italian LGBT community is a passionate, talented and determined force that will make this happen.
In discussions with the activists, the Vatican comes up over and over again. The Catholic church hangs over the movement in Italy like the Evangelicals do in the United States. A couple of activists even offered to move St. Peter's Basicilica to the United States. I respectfully declined and said that their offer was far too generous!