A judge in Boone County, Missouri has granted a gay couple a divorce, which experts say is the state's first, the Columbia Tribune reports: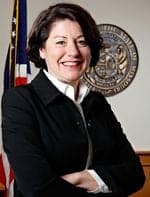 In a ruling handed down last month, Boone County Circuit Judge Leslie Schneider (pictured) granted a divorce for Dena and Samantha Latimer, who were married in Massachusetts in 2009 and lived in Columbia. She ruled that under the legal doctrine of "comity," which essentially means the recognition of the laws of another jurisdiction, a Missouri court can recognize the law of where the marriage was performed "for the limited purpose of granting equitable relief."
Schneider's ruling says that, while Missouri's Defense of Marriage Act prohibits a court from recognizing a same-sex marriage, Missouri courts have made judgments on marriages that were not valid to begin with, such as a 1993 Western District Missouri Court of Appeals judgment on a marriage in which the parties failed to obtain a marriage license.
Considering those cases, Schneider ruled, "the court maintains an authority to enter judgment with respect to a marriage that is not legally recognized."
Schneider added that Missouri violates due process clauses of the 14th Amendment by denying gay couples the ability to void their marriages.
Legislation has been proposed in the 'Show Me' state that would reverse the state's 2004 constitutional amendment defining marriage as between a man and a woman.
Also, the state's governor Jay Nixon is facing impeachment threats from Republican lawmakers angry that he issued an executive order allowing same-sex couples who married elsewhere to file joint tax returns in the state.