Russian President Vladimir Putin is using some not unfamiliar lingo to discuss the uprising in Ukraine: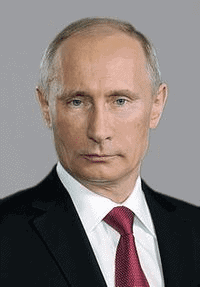 He's even gone so far as labeling Kiev protesters who confronted the former pro-Russian regime in Ukraine "gay Nazis," says Matthew Schmidt, an assistant professor of national security and political science at the University of New Haven in Connecticut.
The gay Nazis label was simultaneously an attempt to tie the new pro-Europe camp in Kiev to the hated German Third Reich while also taking advantage of the growing acceptance of gay marriage in the West, particularly in the United States.
"Putin has said homosexuality is not our values, and that sense of tolerance of homosexuality is not part of Euroasia," said Schmidt, who will be in Ukraine monitoring the May 25 elections that are being overseen by the Organization for Security and Cooperation in Europe (OSCE).
Euroasia is the name for the empire Schmidt believes Putin is trying to construct. Schmidt says Putin is driven by the goal of rebuilding a Euroasian empire with Moscow as its capital.
'Gay Nazis', as opposed to angry citizens who didn't appreciate part of their country being annexed by the authoritarian James Bond villain next door.
The uprising is instead due to the fact that most Ukrainians wish to remain Ukrainians, even the ethnically-Russian ones. Said Olena Nikolayenko, an assistant professor of political science at Fordham and native of Ukraine,
"Russia is an economically backward, authoritarian state. What can it offer for residents of eastern Ukraine, except higher pensions for the elderly and higher wages for the security apparatus to maintain the police state?"