South Dakota GOP state House representative Steve Hickey isn't too happy that his state might become the latest to face a legal challenge to its gay marriage ban.
Hickey, who serves as a pastor when not at the capitol introducing anti-gay legislation, submitted a letter to the editor this week to South Dakota's largest newspaper challenging the "medical and psychological communities" to weigh in on the issue of homosexuality.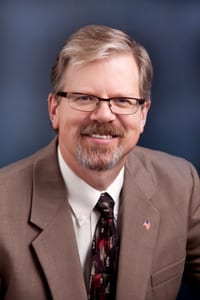 Wrote Hickey:
Certainly there are board-certified doctors in our state who will attest to what seems self-evident to so many: gay sex is not good for the body or mind. Pardon a crude comparison but regarding men with men, we are talking about a one-way alley meant only for the garbage truck to go down. Frankly, I'd question the judgment of doctor who says it's all fine.
South Dakota docs, it's time for you to come out of the closet and give your professional opinion on this matter like you capably and responsibly do on all the others. Somehow the message we are presently getting from the medical community is that eating at McDonalds will kill us but the gay lifestyle has no side effects. Truth be told it seems self-evident the list of side effects would read far longer than anything we hear on a Cialis commercial.
In a follow-up interview with TPM, Hickey acknowledged that straight couples "absolutely" have anal sex too, but he was focused primarily on the "health of homosexuality"
"Most groups are just quiet and silent on it because of the intimidation factor and the only group that's raising a stink is a religious group, and I acknowledge in [the letter] that people are sick of hearing about that," he told TPM.
"And that's fine, so I said let's talk about it from a medical vantage point. I do believe, and I've heard enough medical people talking about the intimidation factor and silencing that's going on. And you just don't talk about it. You know, you practice medicine and it's an issue of politicized medicine and junk science and agenda-driven studies. When the average person can just, you know, what's self-evident is that [anal sex] isn't good."
The Argus Leader, South Dakota's largest newspaper, hasn't published Hickey's letter yet, citing concerns over its length and language.