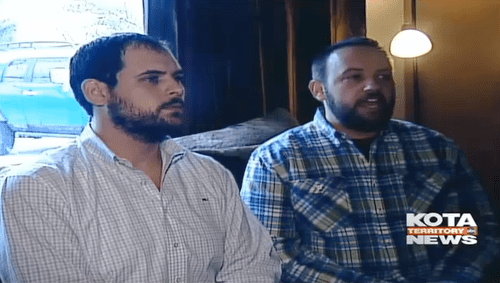 A third gay couple from South Dakota is planning to challenge the legality of the state's ban on same-sex marriage, KOTA reports:
Clay Schweitzer and Jeremy Coller are joining two other couples in a lawsuit challenging the state's ban on gay marriage. Lawyers filed litigation on behalf of Schweitzer and Coller, Nancy and Jennie Rosenbrahn of Rapid City, and another couple who live in Sioux Falls. The Rosenbrahn's were married in Minnesota over the weekend.
Schweitzer and Coller said they applied for a license here in Pennington County but were denied. They now plan to go to Iowa to get married before returning to South Dakota to challenge the law.
"This isn't just to stand outside the lines or anything. This is about us living a life together and forming a family. The same thing they can do so easily by walking down to the courthouse, filing out those papers, paying their money and then off to the church." Coller said.
Check out KOTA's interview with the couple, AFTER THE JUMP…

South Dakota Attorney General Marty Jackley [pictured] says he will defend the ban in court:
"I believe that if there is going to be a change in South Dakota to the definition of marriage that that change should come from South Dakotan's at the ballot box and not from a court system or a court challenge," said Jackley.