BY LISA KEEN / Keen News Service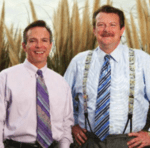 AT THE FOURTH CIRCUIT THIS MORNING:
One of the fastest moving cases among the 60 or so lawsuits challenging state bans on same-sex couples marrying is the Bostic v. Schaefer case from Virginia. This morning, that case will be argued before a panel of one of the nation's most conservative federal appeals courts, the Fourth Circuit U.S. Court of Appeals, in Richmond, Virginia. The identity of the three-judge panel is to be released this morning. The argument begins at 9:30 and Equality Virginia says it expects to have more than 100 people at a rally outside. The Fourth Circuit says an audio recording of proceedings will be available on its website by 2 this afternoon.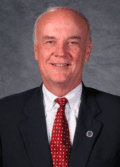 CLAY AIKEN CHALLENGER DIES:
Businessman Keith Crisco, who was fewer than 400 votes behind openly gay candidate Clay Aiken in the Democratic primary race for North Carolina's Second Congressional District, died Monday. The News and Observer reported the Crisco family as saying the 71-year-old succumbed from injuries he sustained in a fall at home around midday. He reportedly planned to concede the primary to Aiken on Tuesday. Aiken issued a statement calling Crisco "a gentleman, a good and honorable man, and an extraordinary public servant." Aiken will now face incumbent Tea Party Republican U.S. Rep. Renee Ellmers in November.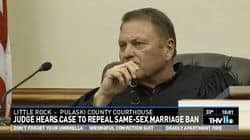 HUCKABEE IMPLORES IMPEACHMENT:
Former Arkansas Governor Mike Huckabee called on current Governor Mike Beebe, a Democrat who opposes same-sex marriage, to call a special session of the Arkansas legislature to impeach county circuit Judge Chris Piazza. Huckabee, according to The Hill newspaper, said Piazza usurped the authority of the legislature and the voters when he declared the state's ban on same-sex marriage to be unconstitutional. The state attorney general filed a motion with the state supreme court Monday morning, seeking a stay of Piazza's decision; at deadline, the state high court had yet to respond. Only five out of Arkansas' 75 counties have issued licenses to same-sex couples.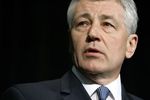 HAGEL OPEN TO DOD TRANS REVIEW:
Defense Secretary Chuck Hagel said on ABC's This Week program Sunday that he is open to having DOD review its policy banning transgender people from the military, but that it's a "bit more complicated" than gays because of special medical needs. He made his comment in response to a question from reporter Martha Raddatz, adding "every qualified American who wants to serve our country should have an opportunity if they fit the qualifications and can do it."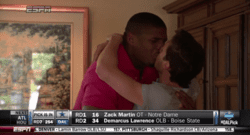 ANALYZING THE KISS:
There was a lot of air time given Monday to talk about a widely seen video of openly gay football player Michael Sam getting the news Saturday that he had just been drafted by the St. Louis Rams and was becoming the first openly gay professional football player. The video shows Sam getting off the phone in tears and turning to his boyfriend Vito Cammisano who gives him a quick kiss on the lips and then they hug for a long time as Sam is clearly overcome with emotion. After viewing the video, a Miami Dolphins player tweeted "OMG" and "Horrible;" but his team general manager quickly released a statement, saying he was "disappointed" in the post and would "handle" the matter. MSNBC political commentator Chuck Todd had this perspective: "That could be the most significant cultural moment in hindsight. We may look back on that moment being sort of THE big moment when same-sex marriage and same-sex relationships as far as pop culture was concerned went mainstream. … That was as significant as a state legalizing, as being the first state to legalize same-sex marriage."
© 2014 Keen News Service. All rights reserved.